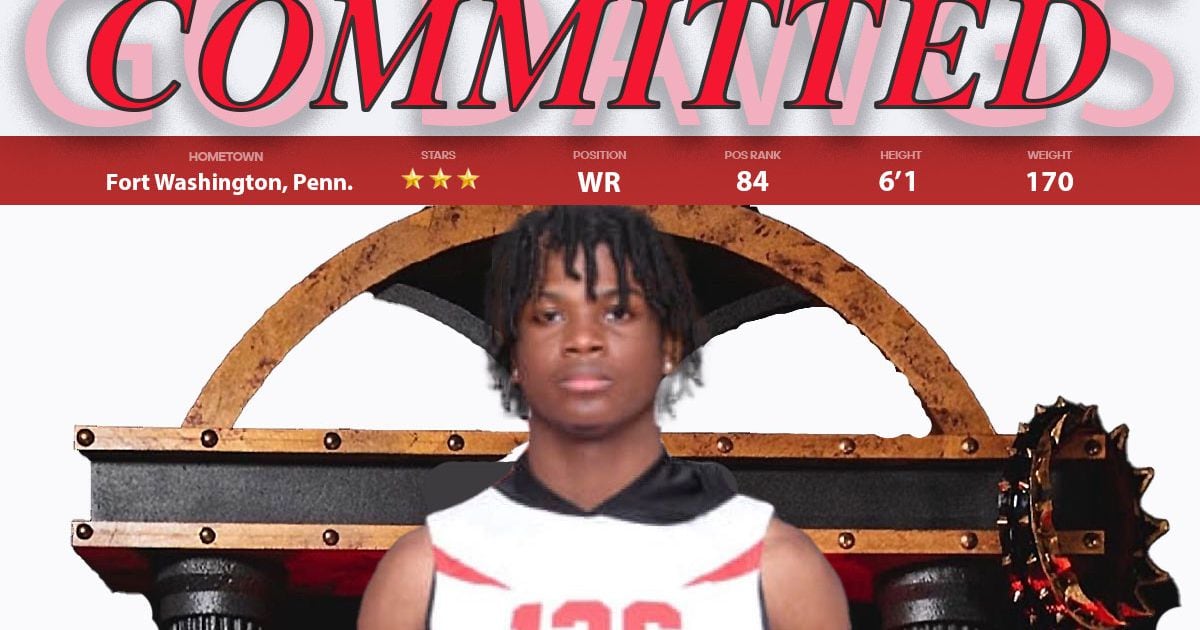 BREAKING: Speedy 3-star WR Yazeed Haynes has made his college decision
Want to attack every day with the latest Georgia football recruiting info? That's the Intel. This rep has the latest news with 2023 WR Yazeed Haynes. He ranks as the nation's No. 83 WR and the No. 635 overall prospect on the 247Sports Composite ratings.
=========================================================
Yazeed Haynes, a very recent Penn State decommitment, has quickly made another pledge to play receiver for Bryan McClendon at Georgia.
That's where we begin with this one.
Any discussion Haynes will get tangled up in a lot of numbers. Kind of like the tape at the finish line.
Here is the starter kit:
2: The number of schools he has made commitments to prior to today and the number of positions (WR and CB) some scouts feel he can shine at on Saturdays
3: His prospect star ranking for the 247Sports Composite and the On3.com
4: His star ranking on Rivals.com
33: His prospect ranking at wide receiver in the 2023 class on Rivals.com
69: His On3 Consensus ranking among the nation's 2023 receivers
83: His 247Sports Composite ranking among the nation's 2023 receivers
219: Rivals.com sees Haynes as the nation's No. 219 overall prospect for this cycle
490: The On3 Consensus values him as the nation's No. 490 overall prospect
635: The 247Sports Composite pegs him as the nation's No. 635 overall prospect
That's an uncommon amount of variance among the three major college recruiting services. Especially in this day and age.
As those things go, they can be subjective. It appears that several evaluators are taking a lot at his release (pretty good), his hands (getting better), his routes (above-average for a WR recruit in high school) and projecting where he is right now as a college prospect.
Yet there's one number that pops out for the 6-foot-1 receiver above all the rest.
4.39 seconds: That was his reported hand-time at a Penn State prospect camp back in June. He doesn't even run track. He hasn't been active in track for years now.
Here's another number that resembles that one:
4.2: That's his weighted GPA at North Penn High School in Pennsylvania. He carries an unweighted 3.4 grade-point average in high school. Haynes does plan to enroll early at UGA in January.
The advice here is not to get lost in all those numbers.
Haynes is a sharp young man and a polished communicator. One of the reasons he chose the 'Dawgs is the future business major knows about the opportunities that might await a graduate from the University of Georgia in a thriving Southern city like Atlanta.
When he says he will own his own business one day, he means it.
Why did he choose UGA? He rattled off big points about McClendon and KSmart. He also got to know Fran Brown just a bit from when he was recruiting the area for Rutgers.
"It was that family feeling of being there," he said. "It was the location. All that stuff. It really made me feel like Georgia was the best place for me. My parents were very happy for me when we were down there. They saw the smile on my face and they were really happy being there. I always want to make my parents happy also."
"It was those three factors. The family feeling. The location of Georgia. The team. The facilities and my parents being happy with me going there. That just made me choose Georgia."
Haynes becomes the 18th commitment of the 2023 class in Athens. He is now the second receiver in the class for the 'Dawgs.
Did you know the weekly DawgNation.com "Before the Hedges" program is available as an Apple podcast? Click to check it out and download it.
Yazeed Haynes: Tracking what he can do as a college prospect
Haynes is a premium explosive athlete evidenced by not only that showing in the 40 but also with his performances reported on by Blue and White Illustrated with a 4.2 time in the pro agility shuttle and a 10 feet, 10-inch showing in the broad jump.
To place that last measure in comparison, Georgia's Lewis Cine broad jumped 10 feet, 11 inches and 11 feet, 1 inch during his two jumps at the NFL Scouting Combine back in March. Cine also timed at 4.37 and 4.40 seconds in the 40 at the combine, too.
His junior HUDL film below also shows what he can do.
While he plays fast on tape, he doesn't play 4.39-in-the-40-fast on tape on a lot of those clips. There are a lot of variables to consider there. But that's also a chief reason why those prospect rankings will vary for an athlete of this caliber.
There's the belief here that he is a 4-star prospect. Especially given his athleticism and upside.
It is also of interest that Haynes becomes the second former Penn State commit to join the 2023 Georgia class along with Virginia IOL Joshua "Doogie" Miller. Haynes and Miller both took their official visits to UGA back on June 24.
"That's when I first saw Georgia and it brought me to like Georgia and closer to Georgia," Haynes said. "That was my first time being there and being around the coaches in person. That really changed my recruitment and I started thinking that maybe Georgia was the best spot for me."
The other big connection here would be defensive backs coach Fran Brown. Brown recruited Haynes just a bit when he was at Rutgers. That was the first program that the newest Bulldog pledge committed to back on March 24.
Haynes was also struck by Smart during their first meeting.
"It was crazy," he said. "That was my first time talking to him and it was almost like talking with family. Sometimes talking to coaches it can be all business, but talking to him it was real personal and I got like a real connection with him."
He decommitted from the Scarlet Knights on May 23 and committed to Penn State on June 12.
Haynes decommitted from the Nittany Lions earlier this week on Monday.
Have you subscribed to the DawgNation YouTube channel yet? If so, you will be able to see special 1-on-1 content with UGA names like Jake Fromm, Gunner Stockon and Brock Vandagriff here.
SENTELL'S INTEL
(check on the recent reads on DawgNation.com)
Next
BREAKING: Nation's No. 1 safety Caleb Downs commits to Alabama over …