Georgia basketball top scorer Terry Roberts epitomizes team's meteoric rise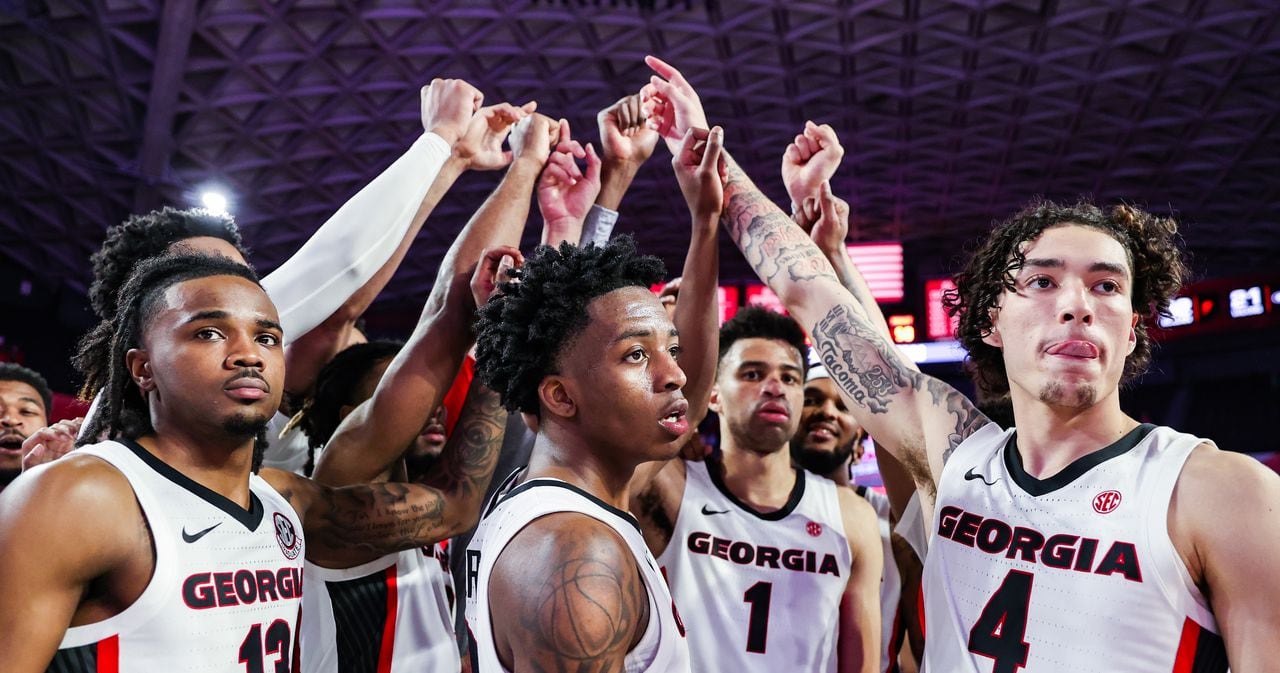 ATHENS -- Georgia basketball continues to exceed expectations in year one of the Mike White era.
The Bulldogs (13-5, 3-2 SEC) reflect the standard of a team coached by White, thriving on hard-headed, physical defense opening the door for quick and various buckets in transition.
Point guard Terry Roberts has taken full advantage of the fast-paced, downhill attack that has helped Georgia to an unexpectedly explosive start to its season.
Roberts' success does not appear to be going anywhere soon, much like White's rapidly improving program.
The 6-foot-3 North Amityville, New York native impressed yet again on Tuesday night, scoring a team-high 21 points with 5 rebounds, 3 assists and a steal in an 85-71 loss at Kentucky.
The senior's 13 first half points fueled a commanding 11-point lead with less than a minute remaining before halftime in Rupp Arena.
"He made a couple quick, pretty tough ones early," White said. "Shot really good percentage, of course. Had a heck of a game."
Roberts will look to lead Georgia's attack to a dominant effort against a Vanderbilt defense that has surrendered 81.6 points per game in SEC play. The Bulldogs, unbeaten at Stegeman Coliseum, improve to 11-0 at home with a win over the Commodores (9-9, 2-3) at 1 p.m. on Saturday (TV: SEC Network).
Roberts' combination of quickness, toughness, straight-line speed, and athleticism keep on-ball defenders guessing, often incorrectly. It's the same combination of skills that had Auburn coach Bruce Pearl dubbing Roberts "the real deal."
That was after Roberts posted a season-high 26 points to lead Georgia to a 76-64 upset of the No. 16-ranked Tigers in the SEC opener.
The point guard's offensive attack has skyrocketed since then. Roberts' 20.4 points per game leads the SEC since the start of conference action.
His 21-point game against Kentucky on Tuesday marked his fifth game with 20 points of more this season and the third in five SEC contests.
The timing of Roberts' emergence is increasingly impressive considering his past. Roberts started his career playing junior college ball at Florida SouthWestern State with fellow Georgia guard Kario Oquendo.
Roberts then transferred to Bradley, where he led the Braves in points (14.5), assists (4.1) and steals (1.6) before taking his first Power 5 roster spot at Georgia this season.
"He's only a few games into playing consecutive high-level games for the first time in his life and he's a very good player, obviously, and he's only going to get better," White said.
Roberts, who faced just two NCAA Tournament teams all of last season, does not appear fazed by the sharper competition. He has faced four already this season and has averaged 15.6 points, 4.2 assists, and 1.8 steals per game on the year.
He leads his team in all three categories with even better numbers than he had at Bradley last season.
It's more than the step back 3-pointers. It's the no-look passes, physical finishes, game-changing steals, and competitive persistence.
It was putting on his loose right shoe with no hands while simultaneously helping cause a turnover that turned into a dynamic assist against Kentucky on Tuesday night.
"He's a relentless competitor," White said. "He's growing in confidence. He's understanding what it takes to be successful at this level, but he's also got a ways to go."
UGA News
Next
Georgia tips off at Kentucky hunting statement win over Big Blue …