BREAKING: Brice Ramsey is returning to Georgia's football team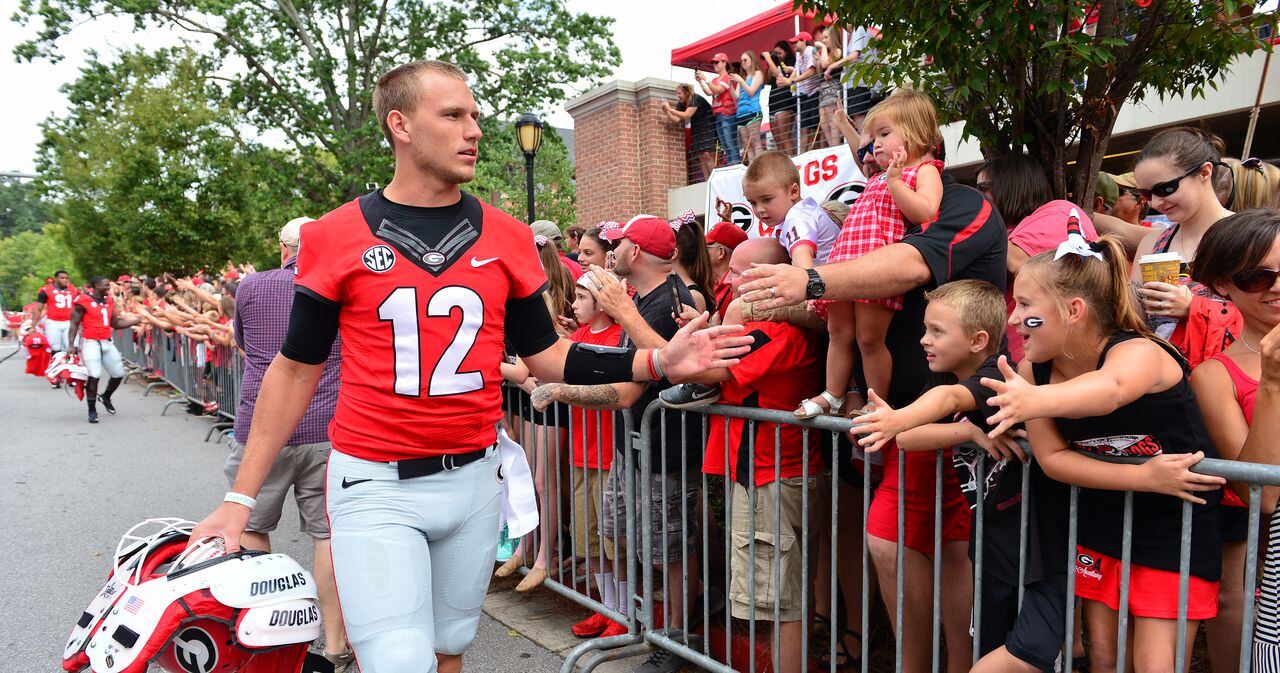 Brice Ramsey's decision to transfer this spring left the Georgia football team with a void, and now it's been filled – by Brice Ramsey.
The senior quarterback has changed his mind and will return for his final season at Georgia. His mother confirmed the news to Dawgs247.com on Thursday.
"Brice has committed to finishing out his time at the University of Georgia," Yolanda Ramsey told Dawgs247. "After visiting and talking with other schools, he could not get past the part of where he is heart was and that is at UGA at the end of the day."
The news is big for the Bulldogs, even with sophomore Jacob Eason in place as the starter. After Ramsey's decision to leave, that left the Bulldogs with only two scholarship quarterbacks, Eason and true freshman Jake Fromm, who was highly-touted but also inexperienced.
But even after Ramsey announced his intention to leave, there were signs that both sides were keeping the door open to a return. Ramsey, still attending classes during the spring semester, helped the team out by throwing during spring practices, filling the need for an extra arm during drills.
Earlier this week Kirby Smart, speaking with reporters at SEC meetings in Destin, said Ramsey would be welcomed back on the team. The parting was amicable, so why not?
"I thought there was a chance out there (for him to return)," Smart said on Tuesday. "I've always told Brice: You have done a great job here. You've done everything we've asked you do, on and off the field. He's a great kid. He competed really hard, I thought he did a really great job, was involved in the competition. When he came and told me he wanted to shop elsewhere, I told him I completely agreed and understood that.
"I do think at the quarterback position that it's a unique position. That there's only one on the field, unless you're a really weird offense, there's only one guy on the field, so it's a unique position to him. If you can't play there, you want to go play. But if you don't have anywhere you're sold on playing – and we've done a good job of actively talking to him, keeping communication."
Ramsey joined the team in 2013 as an early enrollee, and many considered him the heir apparent to eventually be the starter. But circumstances changed, with Mike Bobo, the QB coach and offensive coordinator who had recruited Ramsey, leaving to become Colorado State's head coach. And when Greyson Lambert transferred in the summer of 2015, he became the starter that season. Ramsey served as the backup, appearing in 11 games and throwing 35 passes.
Eason arrived last year, and Ramsey was relegated to third-string. He did not throw a pass last season.
But Ramsey did finish each of the last two seasons as the starting punter, averaging 38.7 yards on 45 punts. Potentially, Ramsey could compete again for that role, though sophomore Marshall Long is returning to health after breaking his kneecap, and graduate transfer Cameron Nizialek also punted well during spring practice.
As for quarterback, Ramsey at minimum gives Georgia more depth and security.
But his return could also scramble the picture behind Eason, if Ramsey is the main backup and that allows the team to bring Fromm along more slowly. The plan remains to be seen, but now Ramsey is back in the picture, and that can only be good news for the team.
"It's really a great thing to graduate from Georgia, be a part of a great program," Smart said earlier this week. "And hey, we've got two quarterbacks. He's a guy who could come in and compete, first, second or third and he's got great experience."
Next
Georgia hires former Auburn assistant coach to support staff