WATCH: Georgia CB Deandre Baker explains why he's 'fearless on the field'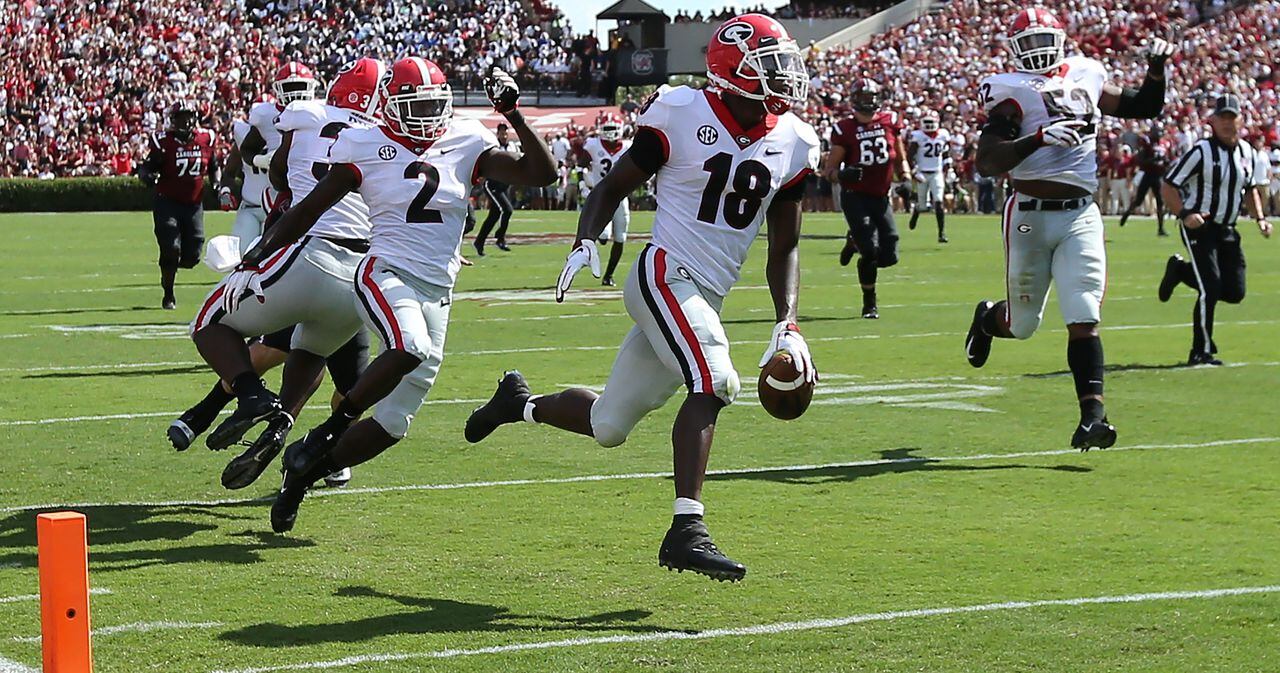 INDIANAPOLIS — Deandre Baker still remembers his first run out of the tunnel at Sanford Stadium.
"I was talking to Sony (Michel) and he was like, 'man, whatever you do, don't look at the crowd,' " Baker said Sunday at his NFL combine podium interview. "It was crazy, at first I was a little scared but then after my first play, I was good.
Baker has gone from good to perhaps being the best at his position entering the 2019 NFL draft.
RELATED: Deandre Baker brimming with confidence on NFL Network
Deandre Baker didn't end his career at Georgia the way he wanted  last season, but sticking around for his senior season has proven invaluable.
"I never second-guessed staying," Baker said on Sunday at the Indiana Convention Center.
"I know I gained a lot the last season, there were a lot of areas I improved in, so it helped me overall — my tackling and ball production."
Scouts love Baker's coverage skills, but also, his willingness to come up and hit in run support.
"That's just me being tough, that's part of my uprising in Liberty City Miami," Baker said. " That's how we are, a tough breed. Just me not being scared of nothing, being fearless on the field."
Baker said he wants to rank in the top 5 in all of the field drills on Monday after doing 14 repetitions of 225 pounds on the bench press on Sunday. NFL scouts will be looking closely at Baker's 40-yard dash time along with his vertical jump and 3-cone drill and shuttles.
Already, Baker has some of the finest game tape of any prospect in the NFL draft.
That was part of the reason why Baker said he made the difficult decision not to play in the Sugar Bowl with Georgia after originally saying he would play in the New Year's game in New Orleans.
"A few weeks before the game I decided not to play after talking to my family," Baker said. "My heart wanted to play, but I had to make a business decision.
"It was hard to watch my team, and I wanted to be out there with them, but they understood. But knowing I wasn't able to be out there with them, it was hurting me."
Baker's next football will be in the NFL, and while there are sure to be some differences, he expects to be back in man-to-man coverage against the opposition's top receiver.
"If a team drafts me they are getting a competitor a guy that will come in and work every day," Baker said. "and compete and challenge the No. 1 receiver on the opposing team and try to lock them down, that's what I do.
"I'm a playmaker …. I'm going to lift the team up when the team needs me, and make a big play, that's me."
Georgia football CB Deandre Baker
UGA News
Next
Atlanta Falcons expert: Georgia's D'Andre Walker a man without an NFL …