Jake Fromm comes up short in NFL combine hand-size measurement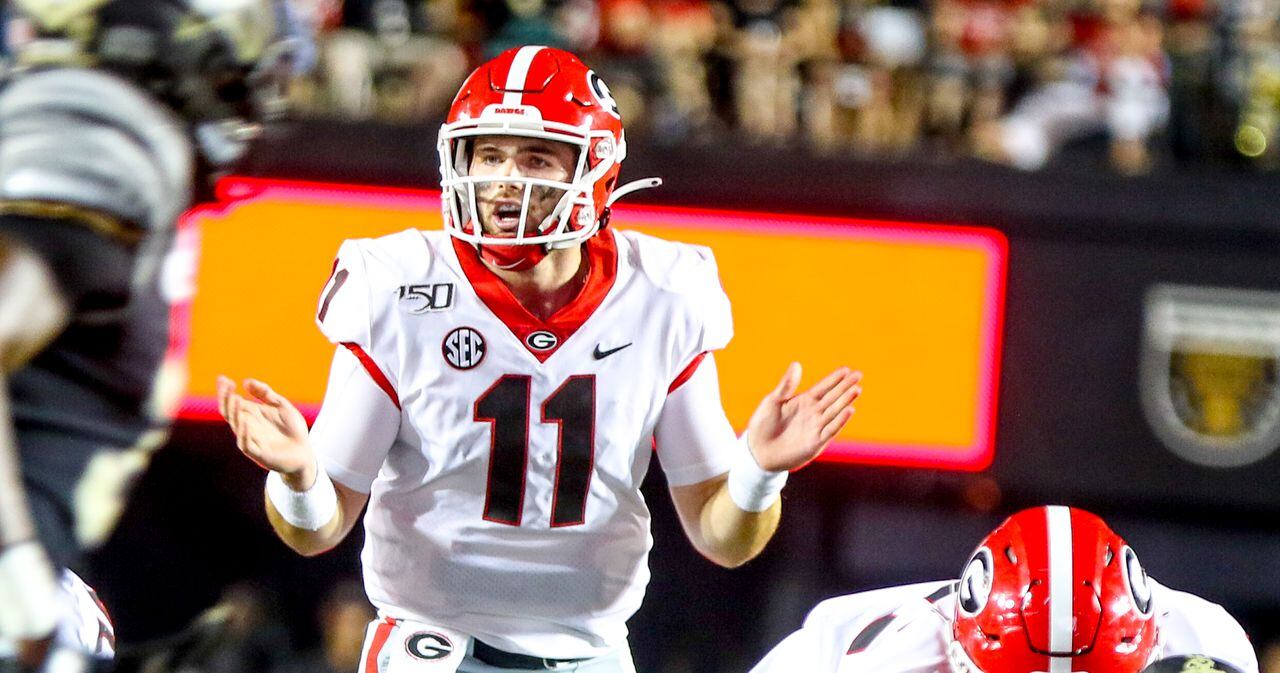 Former Georgia quarterback Jake Fromm figures to be one of the more talked about players at the NFL combine this week, with analysts debating his draft stock.
What Fromm accomplished on the field is hard to argue, a 35-7 record, three straight SEC East Division titles and Rose Bowl, Sugar Bowl and SEC Championship Game wins.
But the NFL combine is all about the physicals, tests and measurements. It's teams kicking the tires on prospects before investing millions and championship hopes in the form of draft selection.
RELATED: Lawrence Cager has questions to answer at combine
Fromm figures to be one of the more scrutinized players at the combine on account of being a quarterback and playing at Georgia.
Fromm, already, has come up short in the measurement department in at least one respect.
Fromm's hand was discovered to be  relatively small (by NFL QB standards). It could be a telltale cause of the trouble he had gripping and throwing the ball in inclement weather in games with Kentucky and Texas A&M last season.
Jake Fromm evaluation, comparison, per former Super Bowl scout
Tua Tagovailoa, Alabama: 9 7/8
Brian Lewerke, Michigan State: 10 5/8
Jalen Hurts, Oklahoma: 9 6/8
Anthony Gordon, Washington State: 9 6/8
Justin Herbert, Oregon: 10
Joe Burrow: 9
It will be interesting to hear if there are concerns about Burrow's hand size, which is just 1/8 of an inch bigger than Fromm's.
It was a perceived issue going into the NFL combine last season for eventual first overall pick Kyler Murray, who was selected by the Arizona Cardinals.
Murray came in at 5-10, 207 — still on the short size — but his hand was recorded at 9 1/2 inches.
The USA Today did a large takeout on quarterbacks' hand size last year, and concerns that smaller ones may not be as efficient in poor weather or securing the football.
In the story, reported by Steven Ruiz, the hand sizes of multiple-game NFL QB starters were listed:
The USA Today study concluded that hand size was not related to cold weather performance, and there was only a slight correlation in ball security.
Still, there are some NFL personnel managers and coaches that rely more heavily on combine numbers than others.
Former Cleveland Browns' coach Hue Jackson said as much in the USA Today article.
"It (hand size) matters because we play in a division where all of a sudden there's rain, there's snow and it's different," Jackson said.
"I think guys that have big hands can grip the ball better in those environmental situations and so we'll look for a guy that fits what we're looking for in a quarterback and, is hand size important? Yes it is."
And yes, the NFL combine officially has its first talking point where former Georgia players are concerned.
The Bulldogs have 10 players who will be in Indianapolis this week, so it's only the beginning.
DawgNation Georgia in NFL Draft
Why Jake Fromm is not for everybody, per NFL Network analyst
D'Andre Swift draft stock makes Georgia football 'RBU' again
Jake Fromm evaluation, comparison, per former Super Bowl scout
The 10 Georgia football players invited to 2020 NFL Combine
ESPN labels Georgia a "loser" in NFL early entry process
NFL draft projections: Jake Fromm staying down South?
Mel Kiper Jr.'s mock: Andrew Thomas and D'Andre Swift future teammates
Next
Georgia football 2021 clash with Clemson: 'going to feel like a …