Two-time national champ Kenny McIntosh ready to compete amid deep Senior Bowl RB room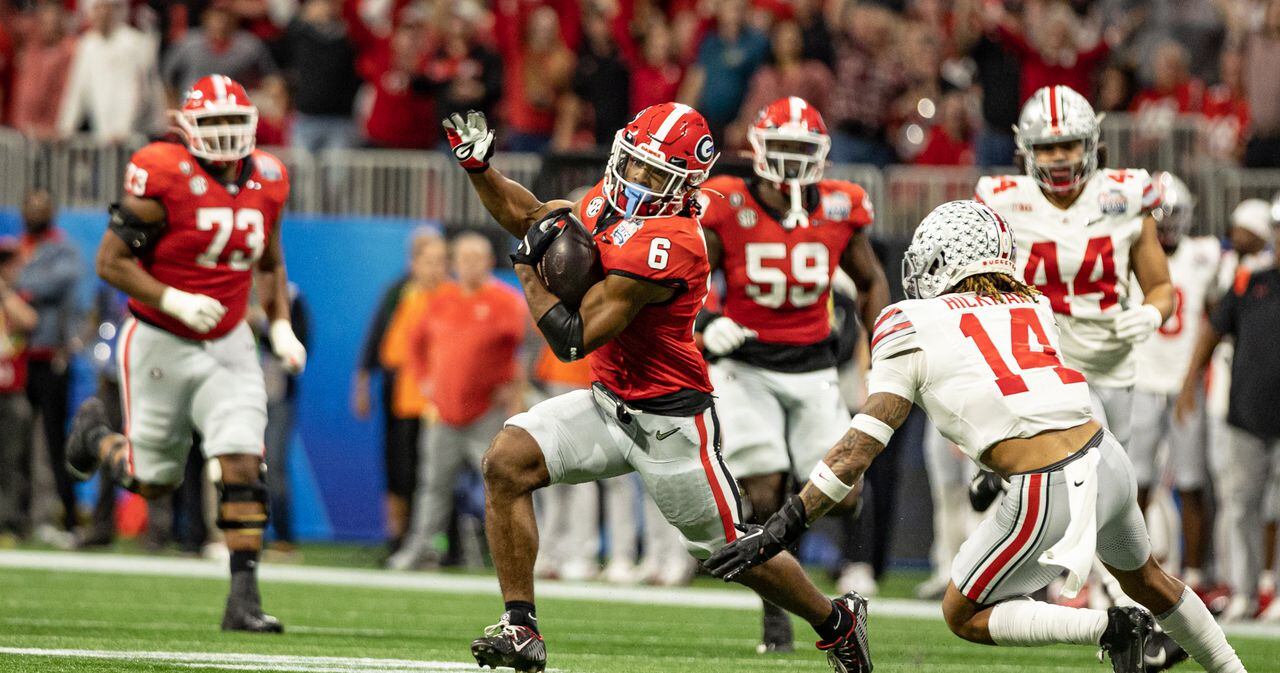 ATHENS — Georgia tailback Kenny McIntosh might not seem like he has anything left to prove as a two-time national champion and the Bulldogs yards-from-scrimmage leader.
The same could be said for almost any starter on the Bulldogs' team after the offense, defense and special teams pulled together to carry one another through a 15-0 season.
McIntosh was among the most important, one of only three SEC players since 2000 to have more than 500 yards rushing and receiving and score 10 touchdowns, joining the company of Dexter McCluster and Percy Harvin.
McIntosh has been a clutch contributor throughout his four-year career at UGA, once one of the top kick returners in the nation at Georgia when he wasn't getting his chances in Dell McGee's deep RB rotation.
The media has been hard on McIntosh when it comes to recognition, however, as he did not earn All-SEC honors or make any postseason award lists as a finalist or even semifinalist.
This, despite Kirby Smart calling McIntosh the "Alpha leader" of the Bulldogs offense last season and crediting him with carrying the team on his back at Missouri amidst an offensive meltdown in the narrow 26-22 win.
The good news for McIntosh and the four other UGA players who are choosing to compete in postseason all-star games — Robert Beal (East-West Shrine), Chris Smith, Jack Podlesny and Warren McClendon — is that the NFL will judge the players for themselves.
McIntosh has turned some heads already with his efficiency and consistency.
In addition to McIntosh in the backfield, the Senior Bowl will feature:
• Chris Rodriguez, Kentucky
• Eric Gray, Oklahoma
• Tyjae Spears, Tulane
• Cameron Peoples, Appalachian State
• Chase Brown, Illinois
• Roschon Johnson, Texas
• Evan Hull, Northwestern
Carrying the load at Georgia
Kenny McIntosh
193 touches, 1,327 yards, 12 touchdowns
(43-504-2 receiving, 150-829-10 rushing)
Ladd McConkey
81 touches, 1,093 yards, 9 touchdowns
(58-762-7 receiving, 7-134-2 rushing, 16-197 punt returns)
Brock Bowers
72 touches, 1,051 yards, 10 touchdowns
(63-942-7 receiving, 9-109-3 rushing)
154 touches, 870 yards, 7 touchdowns
(14-101-0 receiving, 140-769-7 rushing)
Kearis Jackson
43 touches, 757 yards, 2 touchdowns
(21-320-2 receiving, 1-(-5) rushing, 18-391 KR, 3-51 PR
Kendall Milton
90 touches, 656 yards, 9 touchdowns
(5-64-1 receiving, 85-592-8 rushing)
Darnell Washington
28 catches, 454 yards, 2 touchdowns
How McIntosh stacks up with Georgia Greats ...
2021 James Cook
140 touches, 1,012 yards, 11 touchdowns
(27-284-4 receiving, 113-728, 7 rushing)
2021 Zamir White
169 touches, 931 yards, 11 touchdowns
(9-75-0 receiving, 160-856-11 rushing)
2020 Zamir White
150 touches, 806 yards, 11 touchdowns
( 6-37-0 receiving, 144-779-11 rushing)
2019 D'Andre Swift
220 touches, 1,434 yards, 8 touchdowns
(24-216-1 receiving, 196-1,218-7 rushing)
2018 D'Andre Swift
195 touches, 1,346 yards, 13 touchdowns)
(32-297-3 receiving, 163-1049-10 rushing)
2017 Nick Chubb
227 touches, 1,375 yards, 15 touchdowns
(4-30-0 receiving, 223-1,345-15
2017 Sony Michel
165 touches, 1,323 yards, 17 touchdowns
(9-96-1 receiving, 156-1227-16 rushing)
2016 Nick Chubb
229 touches, 1,216 yards, 9 touchdowns
(5-86-1 receiving, 224-1,130-8 rushing)
2016 Sony Michel
174 touches, 989 yards, 5 touchdowns
(22-149-1 receiving, 152-840-4 rushing)
2015 Sony Michel
245 touches, 1,431 yards, 11 touchdowns
(26-270-3 receiving, 219-1,161-8 rushing)
2014 Nick Chubb
237 touches, 1,760 yards, 16 touchdowns
(18-213-2 receiving, 219-1,547-14 rushing
2013 Todd Gurley
202 touches, 1,430 yards, 16 touchdowns
(37-441-6 receiving, 165-989-10 rushing)
2012 Todd Gurley
238 touches, 1502 yards, 17 touchdowns
(16-117-0 receiving, 222-1,385-17 rushing)
Other notable Georgia RBs
All-time leader 1981 Herschel Walker
(Heisman finalist, includes 12th game, Sugar Bowl)
427 touches, 2,112 yards, 24 touchdowns
(17-137-2 receiving, 410-1,975-22 rushing)
1992 Garrison Hearst
(Heisman finalist, includes 12th game, Citrus Bowl)
274 touches, 2,032 yards, 23 touchdowns
(23-322-2 receiving, 251-1710-21 rushing)
2008 Knowshon Moreno
283 touches, 1,792 yards, 18 touchdowns
(33-392-2 receiving, 250-1,400-16 rushing)
2002 Musa Smith
275 touches, 1,431 yards, 8 touchdowns
(15-107-0 receiving, 260-1,324-9 rushing)
1997 Robert Edwards
188 touches, 1,122 yards, 13 touchdowns
(23-214-1 receiving, 165-908-12 rushing)
UGA News
Next
Mel Kiper Jr. projects Georgia football back-to-back with No. 1 …