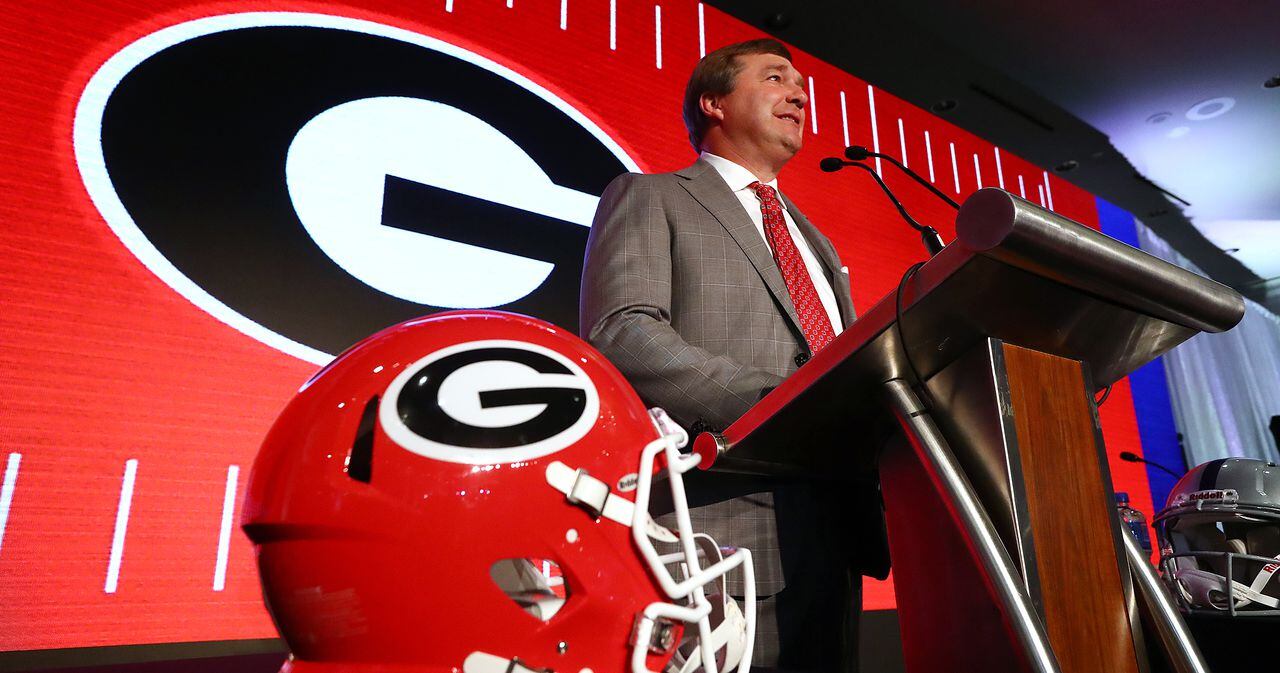 Kirby Smart reigned in Birmingham, shared Georgia football portal and staff retention tips
ATHENS — The Kirby Smart offseason "victory tour" does not include a display of national championship trophies or any sense of comfort or complacency.
Smart's restless, determined nature is part of the reason the eighth-year Georgia head coach has been able to elevate his program to the top of the collegiate football world with championships the past two seasons.
"Put 'em in a closet and lock them up," Smart said during his public speaking bonanza at the Regions Golf Tournament, appearing on the Rick and Bubba radio show last Wednesday.
Smart was the star of the Birmingham event at the Greyson Country Club last week with 71-year-old Alabama coach Nick Saban out of the country for rest and relaxation after his program experienced its third two-loss season in the past four years.
Smart paid tributes to Saban's career, and how he helped the sport along before Georgia took over the top spot with its unparalleled efficiency managing rosters and developing NFL players.
Smart shared how he has focused on maintaining his elite players and valued coaches amid a challenging environment of NIL offers and lucrative coaching gigs.
"I don't look at it as I can go to the portal and fix the problem, I look at it as the family I've created and brought in, I want to keep that family,
I don't want to lose guys to the portal. I don't think it's a great avenue to access to be honest with you, I don't think you can sustain that way.
"I think you have to build it from within, you have to keep your family your family," Smart said. "And if you are able to do that, you're able to train your guys in your systems and you're going to be better off.
"Any time you resort to going more than 15 or 20 percent to the portal, it's going to hurt you."
To Smart's point, Georgia has been very specific in the players brought in.
There are only four transfers expected to make an impact on UGA's 22-man two-deep (18 percent) this season:
• WR Dominic Lovett (Missouri)
• WR Rara Thomas (Mississippi State)
• DB Tykee Smith (West Virginia)
• DB Smoke Bouie (Texas A&M)
Smart also had some attrition on his coaching roster with Todd Monken being hired by the Baltimore Ravens.
And while not to the extent of Saban — who has had 14 coordinators in 17 years — Smart has had turnover with seven coordinators in eight years.
"If you win, they are going to come and get you, (and) if you lose, they are going to fire you," said Smart, easily the longest-tenured coordinator in Saban's career with seven years and four national titles at his side at Alabama.
"So you're never staying the same. You can't hang out in the middle. But the NFL has come down and started to take some of our guys, and it's a little easier lifestyle, to be honest with you, because the players in the NFL are under a contract, and they have free agents, and they have a collective bargaining agreement, they have a lot of different things we don't have in college.
"I've tried to think outside of the box at how we can give guys more time off, and that might include a Friday or a Monday to tag to a weekend to make it a four-day weekend, because you're just trying to make a living environment better."
Smart said for all the changes that have taken place in his program over the past two seasons, replacing two coordinators and losing 25 players to the NFL Draft, he has worked for some consistency.
"Everybody talks about it being different, but it's the same, " Smart said, "I'm just worried about this year."
Next
Georgia-Florida game location in flux: Shift in trend among Bulldogs' …