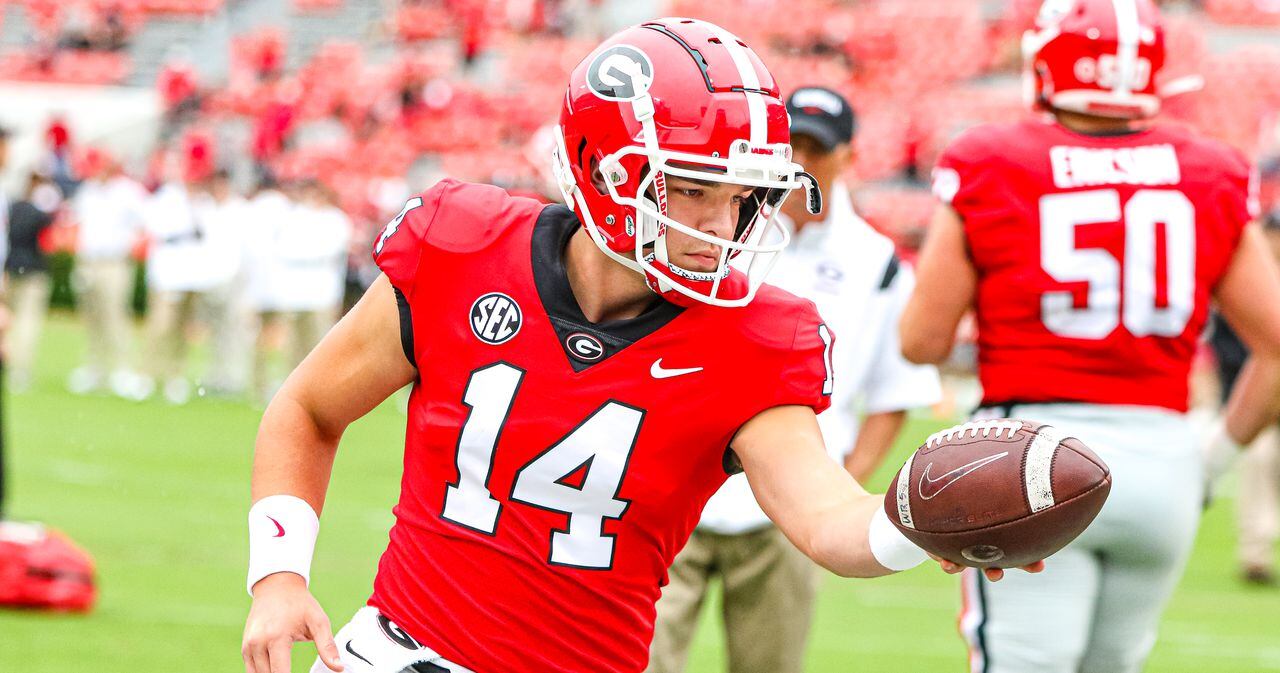 WATCH Georgia QB Gunner Stockton: Why he's still grinning despite not playing in 2022
LOS ANGELES — Gunner Stockton jumped into a jam-packed Georgia quarterbacks room grinning ear to ear.
Stockton, a rising sophomore from Rabun County, is still smiling despite not logging any game snaps this season.
"Everybody wants to come in and start, but when you've got Stetson (Bennett) and all the guys, and how well he's done this year, it's really awesome," Stockton told DawgNation last Saturday at the CFP Media Day.
RELATED: Brock Vandagriff reveals football plans
"To see how Stetson has played, I'm getting to learn a lot. I feel like that's the biggest thing."
The Bulldogs just won their second straight CFP Championship Game, besting TCU 65-7 on Monday night in SoFi Stadium, and Stockton has the satisfaction of knowing he played a role in it.
Indeed, it was Stockton wearing the No. 15 of Max Duggan as the Bulldogs prepared for the Horned Frogs.
And Stockton, a thick, 6-foot-1, 220-pound dual-threat quarterback, took it a step further, according to Coach Kirby Smart.
"We've got some good quarterbacks in there," Smart said of his quarterbacks room. "We got one that took a black (non-contact) jersey off and took hits all week so he could be Max (Duggan).
"Gunner Stockton said, 'Coach, take my shirt off. I'll take the hits.' "
RELATED: Kirby Smart tips hand on quarterback priority
Stockton revels in the competition each time he takes the field against the Bulldogs' elite defense.
"It has definitely made me better, just going against the best defense in the country, but I've really enjoyed it," Stockton said,. "I just feel like it's all part of it, and I feel everybody has to go through it."
Stockton also recognizes there's a lot to learn, to the point he was extremely limited in the G-Day Game last April even after enrolling last January and being a quick study.
"It's pretty neat getting to see how much control Stetson has with it, and I enjoy getting to learn everything," Stockton said. "I feel like I fit in good with the scheme, I like what (Bennett) is doing and it's obviously working."
Former Georgia quarterback Jake Fromm spoke glowingly of Stockton last fall, sharing how often he had observed him taking in extra film study.
RELATED: Jake Fromm breaks down UGA quarterbacks
"I love Gunner, he's a guy who prepares," Fromm said during his DawgNation appearance at Marlow's, prior to signing his free-agent deal with the Washington Commanders.
"I'm in the QB room right now, working on my classes, so I get to see who comes in and out, and man Gunner is there a lot, a ton."
That love of the game is why Stockton has taken his redshirt season in stride, understanding patience is part of the plan.
"I feel like, first off, if you live in Georgia, it's everybody's dream to be the starting quarterback," Stockton said, explaining why he'd rather invest his time as a backup at Georgia rather than transfer somewhere else and play right away.
"But it's putting in hard work in what you believe in, that's the biggest thing."
WATCH: Carson Beck reveals future outlook, state of preparedness
Being close to home is another advantage that Stockton said has made the transition from high school to college easier.
"It's not too far away, so that helps a little bit," Stockton said. "It's been a good adjustment."
Next
Kirby Smart shares plan with Georgia football transfers coming and …