Adam Wainwright rides humble Georgia roots to MLB success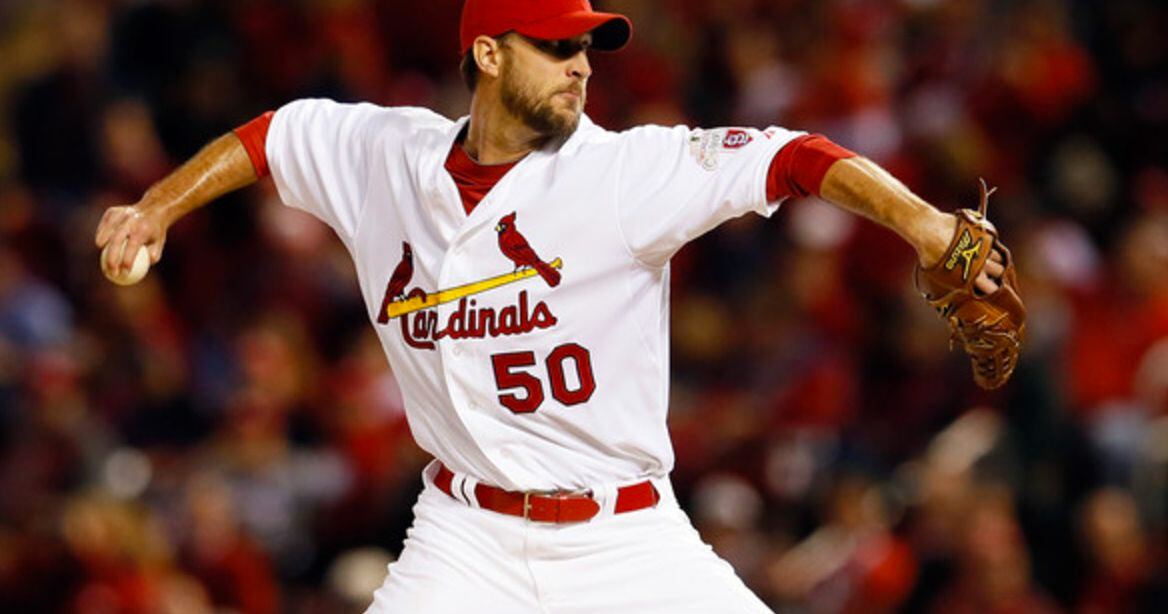 JUPITER, Fla. — Adam Wainwright, one of the best pitchers in baseball with two World Series rings and a big league net worth, expects more of himself this season than 2016, when he had an off year that turned nobody's head but his own, albeit negatively: 13-9 record and a 4.62 ERA.
Not bad for many guys, but way below what this St. Simons Island native expects of himself. He treats an off year as if it were a failed opportunity. If he stopped right now, his career would be noteworthy. His numbers might not be Hall of Fame worthy, but who is to say they won't by the end of his career? The 35-year-old begins his 12th season as a Cardinal with a record of 134-76 and an ERA of 3.17. He has two World Series rings.
Wainwright knows what it is like to win a Gold Glove (he has two) and to help himself win games with his bat (his 18 RBIs last year are the most by a pitcher in the designated hitter era, which began in 1973. "Maybe," he grins, "I can also win a Silver Slugger Award one year."
What is possible and remains an annual goal — is a Cy Young Award. Not just a plaque for the wall, but the fulfillment of knowing he has achieved the ultimate personal goal which likely would mean his team reached the playoffs and maybe the World Series.
When the Braves traded Wainwright to the Cardinals in December 2003, he knew he was joining a team with a championship tradition — only the Yankees (27) have won more World Series titles than the Cardinals (11).
"The fans in St. Louis expect us to make a run for the pennant every year," Wainwright says, "and quite frankly we (the players) expect that of ourselves, too. It is nice to be in a clubhouse with high expectations."
The vicissitudes of life are often dramatic for a big leaguer. With Adam, he had to make an attitude adjustment when he turned in his Braves uniform. He had gone to spring training every year and saw the daunting pitching lineup of Greg Maddux, Tom Glavine and John Smoltz. A, "how do your make this roster?" challenge. However, he knew he was better than his performance.
With a new opportunity, he set about "dancing with what brung him," his work ethic. The game has never come easy for him as with some guys whose cup runneth over when it comes to raw talent. He missed a season with Tommy John surgery and experienced a ruptured Achilles which sidelined him for most of another. Yet he has been one of the most consistently effective pitchers in baseball. With 10 wins this season, he will move into the top 5 in Cardinals history for wins, a category led by Bob Gibson, who has had an impact on Wainwright's career.
It was Gibson who told Wainwright that when he finished a game, his entire boy was sore. He put so much into every pitch in an effort to keep hitters off the base paths that his body ached intently when the game was over. That resonated with Wainwright.
When he was growing up, Wainwright had an undying passion for football, but the only scouts that came around were those who thought he might be scholarship-worthy as a kicker. Today, he is a passionate football fan — Georgia, Jacksonville Jaguars and Atlanta Falcons — in that order. You frequently find him tailgating at Jaguars games in Jacksonville because of the proximity to St. Simons Island. "There's nothing like a trip to Athens to see the Dawgs between the hedges," he adds.
Time spent in a deer stand and in the Rockies, bent on bringing down a bugling elk are rewarding avocations for this native Georgian. "That is all fun," he says, "but I'm greedy for another ring. Getting to the World Series and helping your team win is the highest and richest moment of a baseball player's life."
The great Stan Musial had an influence on Wainwright, too. Musial always obliged with autograph requests. He never was ejected from a game and he deeply loved the game he played. Wainwright has an unselfish bent, too. If you recall, a few weeks ago he rented a car for a minor league teammate, Ryan Sherriff, who was walking everywhere he went because he couldn't afford to lease a car.
Adam Wainwright has something in common with Bob Gibson and Stan Musial.
UGA News
Next
UGA needs to wage war in SEC's 'facilities arms race'