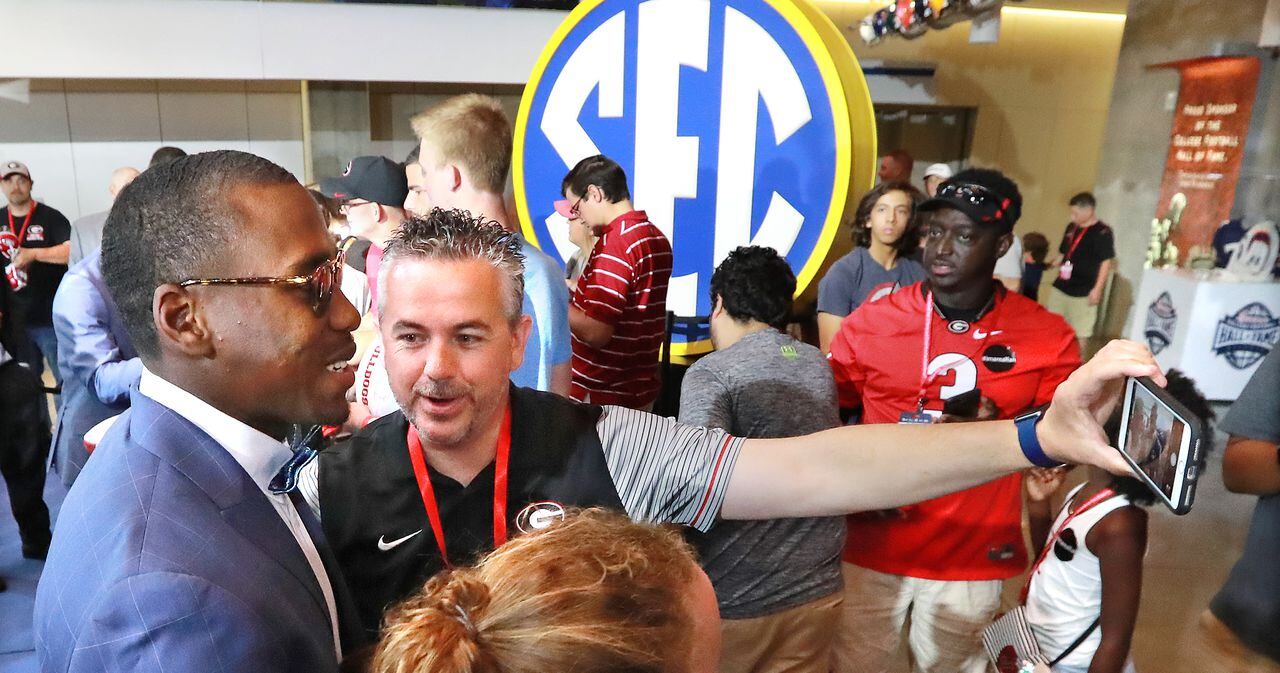 Own the East: UGA safety J.R. Reed says 'keep missing on me, that's fine'
ATHENS – Perception and reality. There's always a gap between them. In the case of Georgia's J.R. Reed, the chasm was enormous.
When he abruptly committed to Georgia two summers ago as a transfer from Tulsa, everybody just assumed it was a ploy by the Bulldogs to help win over Reed's cousin, Deangelo Gibbs. Gibbs was a 5-star prospect at Grayson High School. Reed was a decent-enough prospect out of Prestonwood Christian in Frisco, Texas. But he'd played only sparingly with the Golden Hurricane, logging five tackles in 13 games.
Fast forward to 2018 and it is Reed, not his famous first cousin, who was representing Georgia at SEC Media Days. It is Reed's name you'll find on preseason all-conference teams and All-America watch lists. After starting all 15 games at strong safety for the SEC champion Bulldogs and making some of the biggest plays of the year in the secondary in 2017, Reed is a certified leader who is vying for captain status this season.
That nobody expected him to be in this position is all right with Reed. He likes to be doubted. Feeds off it, actually. It's his fuel.
"I've always had a chip on my shoulder," said Reed, whose father Jake Reed played 12 seasons in the NFL, mostly with the Minnesota Vikings. "I've been passed up since I was little. When you have a chip on your shoulder, it makes you play harder. If they keep missing on me, that's fine."
It's hard to miss Reed now. He's right in the middle of everything the Bulldogs are doing. Right now, he's one of just two players in Georgia's secondary with regular starting experience (junior corner Tyrique McGhee started two games last season).
As such, whether he wanted to or not, Reed has had to assume a leadership role. He has taken over for the graduated Dominick Sanders as the quarterback of the secondary. That carries with it a responsibility to make sure that the young guys know what they're doing.
That's a duty Reed is not about to run from.
"It's part of my role being a leader, being an older guy, to teach these younger guys," Reed said. "It's not a challenge. It's just something you've got to do."
Of course, leadership is something that can't just be bestowed on a player because he knows the defense or does what coaches tell him. To really earn the respect of teammates, one has to lead with their play on the field as well.
That's where Reed really distinguished himself last season. The Bulldogs knew they had a player in Reed because of what he had shown them during his redshirt year in 2016 and spring and preseason practices leading up to last season. As a result, Reed started the first game of the year.
But as the stakes rose throughout the season, Reed's play just kept rising with it. He led the Bulldogs with nine tackles and two QB hurries in their nationally-televised win over Notre Dame in South Bend in Week 2. He had a hand in two of the Bulldogs' four takeaways in a shutout of Tennessee. He was named SEC Defensive Player of the Week after a 5-tackle/1-sack performance against Florida that included a scoop-and-score. He had 11 tackles at Auburn and recorded eight stops against Oklahoma in the Rose Bowl.
Reed finished his first season playing with the Bulldogs second on the team in total tackles with 79, 1.5 sacks, 5 tackles for loss, a forced fumble, two fumble recoveries, five pass break-ups, two interceptions and 6 quarterback pressures.
"He is establishing himself as a player that can produce on the field," said defensive coordinator and secondary coach Mel Tucker. "He gives great effort; he does really well in the video room; takes good notes. He is very unselfish and helps other players. Character-wise, he is an impeccable guy. He has a really good pedigree, so he is another guy we are leaning on for leadership."
About this, Reed has to pinch himself sometimes. Though he has never wavered from the standpoint of inner-belief, going from scratching and clawing for scholarship offers to being one of the most established and respected leaders on a Top 5 team is quite a leap in a couple of years' time.
"It's just a great feeling," Reed said.
The irony is not lost on Reed, that it is him rather than his younger cousin from Georgia who is lapping up all this notoriety. Perhaps that's why he remains a bit measured and cryptic when the conversation turns to Gibbs.
"He's back on the team and he can't wait to play like the rest of us," Reed said of his cousin.
But if Gibbs is to indeed get on the field this field, it won't likely be at the strong safety position. No, Reed has that one covered, and he's one of reasons most believe Georgia will "own the East."