WATCH: Georgia NFL Combine stock report: Darnell Washington, Nolan Smith soaring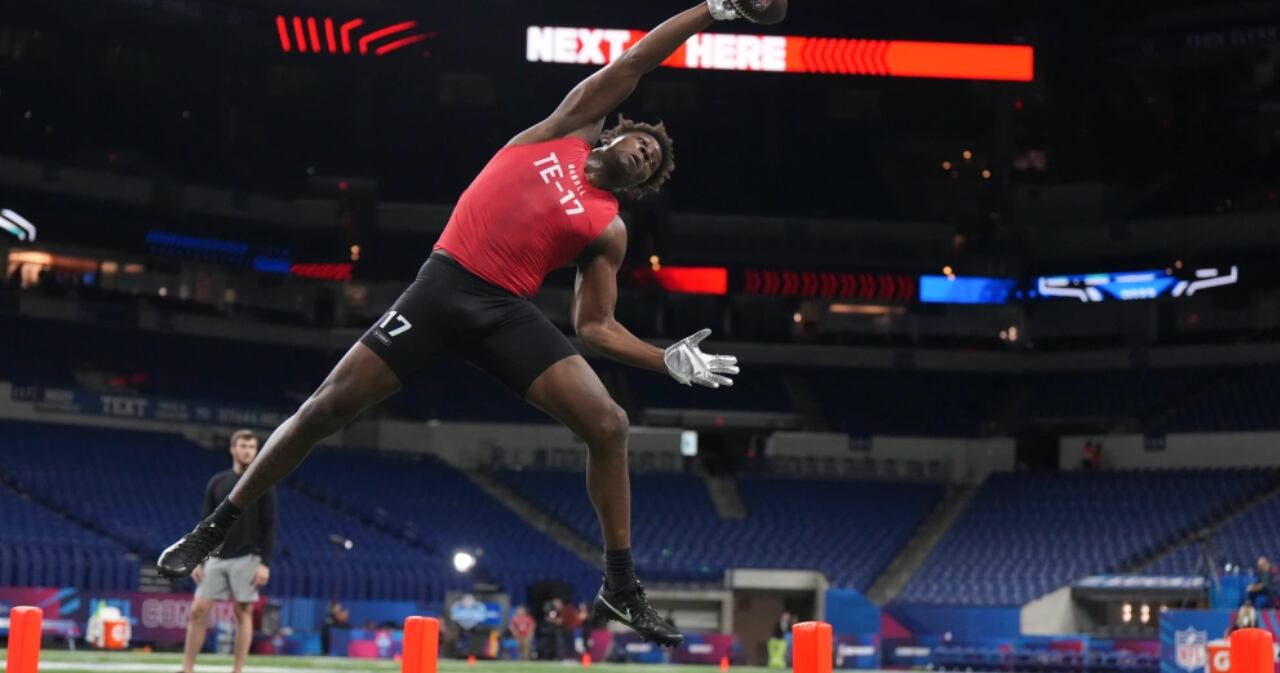 INDIANAPOLIS — Georgia players put on for the NFL Combine last week, auditioning their athleticism, skills, personalities and consenting to full-on medial evaluations.
The 12 outgoing Bulldogs were back in Lucas Oil Stadium to take the next steps toward their football dreams of playing in the NFL.
Philadelphia GM Howie Roseman met with DawgNation before the Georgia players arrived, noting how Kirby Smart's players take the right approach to the game.
"The guys we get from that program understand how to work and they understand the expectation," Roseman told DawgNation in an exclusive interview.
"It's not just about playing well, it's about trying to compete for championships."
RELATED: Super Bowl GM weighs in on Georgia football culture
Indeed, it was just more than a year ago that those 12 Georgia players were a part of the program's historical 33-18 win over Alabama in the CFP Championship Game, snapping what had been a 41-year drought between national titles.
Of course, the Bulldogs' program has long been a model of consistency with the longest active streak of bowl appearances (26) in the nation, and a string of six consecutive Top 10 finishes.
Darnell Washington: The big "O" ran a 4.64-second time in the 40-yard dash with his 6-foot-6 1/2, 264-pound frame. Washington's 83.75-inch wingspan is a record for tight ends, and his 31-inch vertical jump adds more to his noteworthy catch radius.
Washington interviewed well, sharing his team-first approach and maturity as a young father. It's clear Washington's best football is ahead of him.
NFL Projection: Second half of first round
Nolan Smith: The departing Georgia team captain ran the spectrum of emotions in his interview, sharing his joy of the championships season and tears on behalf of his fallen former teammate Devin Willock.
"Do it for Dev," Smith said, and then he did just that, with an eye-opening 4.39-second 40-yard dash at 6-2, 238, and a mind-blowing 41.5 vertical jump to highlight just how explosive he is coming off the ball.
NFL projection: Late-first round to early-second round.
Broderick Jones: NFL teams love Jones' ceiling, as he brings great athleticism and physicality to the position despite being relatively inexperienced.
Jones' 4.97 time in the 40 was the fastest among the offensive linemen at the combine and seals his first-round status.
NFL projection: Mid-to-late first round.
STOCK RISING
Kelee Ringo: Ringo's field drills raised his stock, while his interviews revealed him to be a mature, independent thinker.
Ringo, an impressive 6-2, 207, was as fast as expected at 4.36 and NFL teams like his physicality and open-field tackling abilities.
NFL projection: Late-first round to mid-second round.
Robert Beal: Beal brings the size (6-4, 247) and versatility to play with his hand in the dirt or standing up, and it's a safe bet more teams took note at the combine.
Beal's 4.48-second time in the 40 was impressive, as was his 10-3 broad jump — which was two inches better than overall No. 1 pick Travon Walker last year.
NFL projection: Fifth round to six round.
Stetson Bennett: The two-time CFP offensive MVP had a good throwing performance, showcasing the vast improvements he has made over the past two seasons with his footwork and arm strength.
Bennett's 4.67-second time in the 40 was on par with what many expected, as his mobility has been noted throughout the past two seasons.
The most important thing for Bennett between now and the NFL Draft is the attitude he takes in team interviews.
NFL projection: Fifth round to free agent.
STOCK EVEN
Jalen Carter: A well-documented arrest warrant for racing and reckless driving produced the wrong kind of headlines for Carter, who was not going to work out at the NFL Combine, anyway.
The 6-3, 314-pound defensive tackle returned to the NFL Combine to finish his interviews with teams, missing only his media appearance.
NFL projection: Top 5 pick.
Did not appear, interview from CFP Peach Bowl
Chris Smith: The All-American play-making safety did not have his best showing at the combine, but Smith was not expected to be a workout wonder.
Smith came in at 5-11, 192 and ran a 4.62-second time in the 40-yard dash. The film doesn't lie on Smith, so his stock remains the same.
NFL projection: Third round to fourth round
Kenny McIntosh: The versatile Georgia tailback did not get the NFL combine performance he was looking for in the 40, but he performed well in field drills.
McIntosh, 6-0, 204, will look to open eyes and take part in more combine drills at UGA's Pro Day later this month.
NFL projection: Mid-second round to mid-third round.
Warren McClendon: McClendon stood tall behind the podium, staying focused on his NFL dream less than two months after being in the fatal crash that killed a teammate and recruiting staffer.
McClendon, 6-4, 306, didn't take part in any drill work but NFL teams have surely taken note of his professionalism and maturity in the wake of a tragedy. McClendon's senior bowl practice performances spoke volumes.
NFL projection: Fifth round.
Kearis Jackson: Jackson's workmanlike approach and team-first attitude give him a chance to make an NFL roster, as his size and athleticism do not stand out relative to others at this elite level.
The 5-11, 196 Jackson ran a 4.55-second 40-yard dash but did not take part in any other workout drills. Jackson had an extended time going through the medical portion of the NFL combine.
NFL projection: Free agent.
Jack Podlesny: Podlesny produced several clutch kicks for Georgia over the course of his career, so poise is certainly not the issue.
It's an extremely deep draft for kickers, so Podlesny might be better off not getting drafted so he can choose the best opportunity to win a spot in the NFL.
NFL projection: Free agent.
UGA News
Next
Georgia football stock report: Bulldogs clear Ohio State hurdle, …