Georgia speedster Arian Smith suffers potential season-ending injury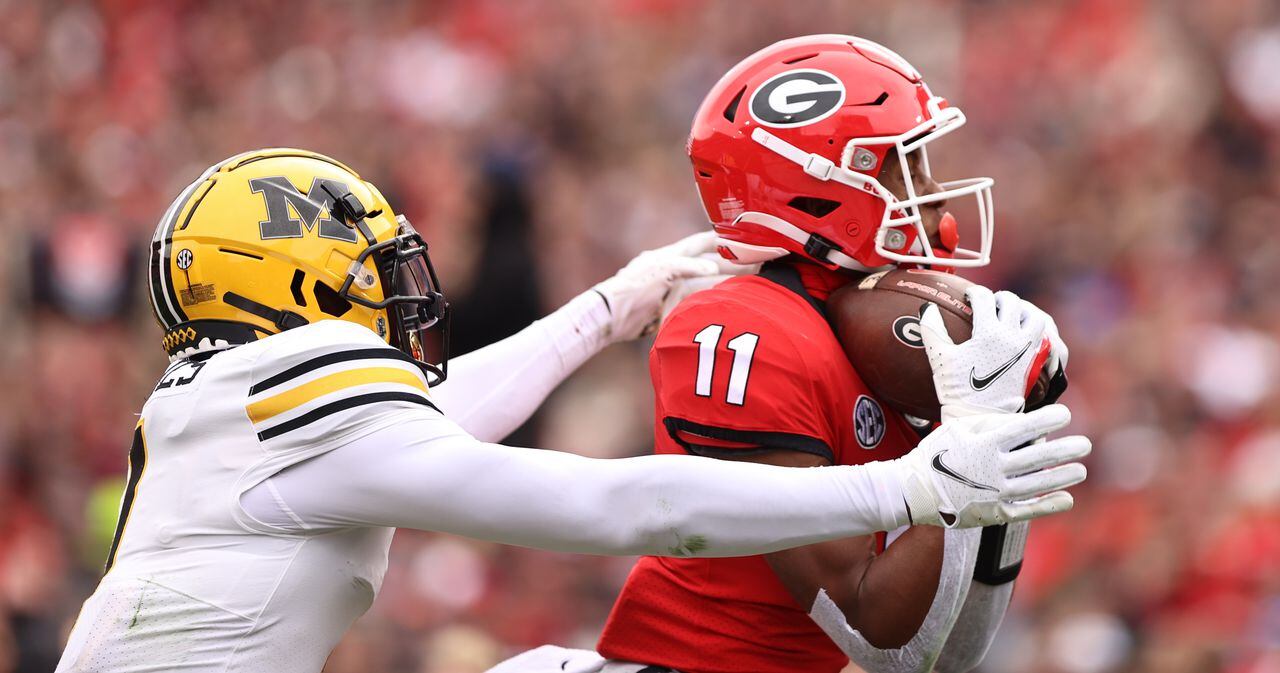 Georgia receiver Arian Smith could be out the remainder of the season after suffering a leg injury in practice on Wednesday that will require surgery, per published reports.
Smith, a redshirt freshman with sub-4.3-second speed in the 40-card dash, caught a 35-yard touchdown pass in the Bulldogs' 43-6 win over Missouri last Saturday.
The game against the Tigers was Smith's second game back from the shin injury that sidelined him the previous five Georgia football contests.
The No. 1-ranked Bulldogs play at Tennessee at 3:30 p.m. on Saturday.
The Bulldogs' receiving corps has been hit particularly hard by injuries but appeared to be getting healthier with Smith, Jermaine Burton (groin) and Marcus Rosemy-Jacksaint (ankle) recently returning from injuries.
Star receiver George Pickens has been out since suffering a torn ACL last spring but could be nearing a return, as he recently returned to the practice squad.
"George has done a little more work this week than he has in the past," Smart said this week. "We've had George at practice catching routes on air, the things that y'all have seen, that's really been it. He's done more competitive periods in terms of scalps and looking and getting confidence and able to go up and go against some DB's and things."
Likewise for Dominique Blaylock, whose return from the knee injury suffered in August of 2020 has been complicated by a pulled hamstring.
"He is much closer," Kirby Smart said earlier this week, "and he's looked good taking some reps against us."
Georgia has also been without redshirt freshman receiver Justin Robinson (hamstring) the past two games.
Smith, a 6-foot, 185-pounder from Bradley, Fla., who also runs track, missed most of the 2020 season on account of a torn meniscus, returning for the final four games.
Smith was out early this season with what was believed to be a shin contusion, but sources have said there might have been a stress fracture. It's unknown if Smith's most recent leg injury is related.
Three of Smith's five career receptions at Georgia have gone for touchdowns, totaling 188 yards. Smith had three catches for 102 yards and 2 touchdowns this season along with one carry for 15 yards.
Smith was a track star in high school and competed in his first-ever collegiate track meet at the SEC outdoors, finishing 8th in the 100 meters with a wind-aided 10.18.
Smith also ran the lead leg on the Bulldogs' school record-setting 400-meter relay (39.02) team and on the UGA 400-meter team that finished second at the NCAA outdoor meet (school-record time of 38.54).
Smart was encouraged by the receivers' production in the win over Missouri, which loaded the box and challenged the Bulldogs to throw over the top.
"When we are fully healthy at receiver, excluding George and Dom, we have a good unit," Smart said after the home win over the Tigers. "With George and Dom, that's what we thought going into the season would be special.
"We're working to get those guys back"
Georgia football availability report
WR Jermaine Burton (groin), probable
CB Ameer Speed (ankle), probable
RB Kenny McIntosh (hamstring), probable
OT Jamaree Salyer (foot), doubtful
WR George Pickens (knee), doubtful
WR Dominick Blaylock (hamstring), doubtful
WR Arian Smith (leg), out
WR Justin Robinson (hamstring), questionable
LB Trezman Marshall (knee), out
RB Kendall Milton (knee), out
DB Tykee Smith (knee), out
LB Rian Davis (quad), out
CB Jalen Kimber (shoulder), out
OL Tate Ratledge (foot), out
OLB Adam Anderson (suspension)
WR Arik Gilbert (personal)
UGA News
Next
Georgia football confident in Broderick Jones as Jamaree Salyer …