Maurice Smith's mother happy with Smart's comments, disputes Saban's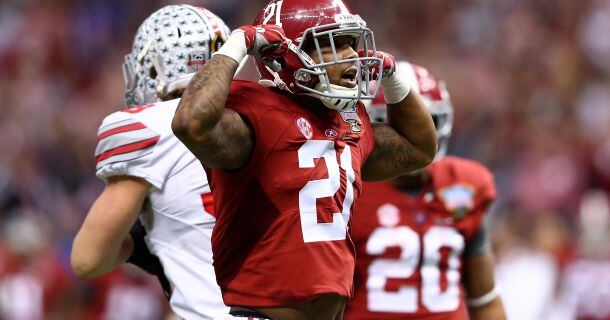 Maurice Smith walked across the graduation stage on Saturday, and is now an Alabama graduate. The next step in his life, however, remained very much in limbo.
Smith still wants to go to Georgia, his mother Samyra reiterated, even though Alabama head coach Nick Saban is still declining to release him to sign with Georgia or any other SEC school. And she was gratified to hear Georgia head coach Kirby Smart say that he would allow one of his players to transfer anywhere they wanted if they had graduated from UGA.
"I applaud Kirby Smart for openly supporting the choices of graduate transfer students and their ability to freely make them without issue," Samyra Smith said. "I also hope that student-athletes that are being recruited understand the difference. Our family advocates for student-athletes and believes in following the rules. But in the interest of doing so, one can never eliminate human compassion, wise judgement, and the balance between them all (the institution and student-athlete.)"
Maurice Smith did see Saban briefly on Saturday. A photo of the two together – Saban with the player in his graduation gown – was taken, as is standard when a player graduates. But the two did not hold a formal meeting, according to his mother.
Saban is exercising his option under SEC rules to not release a player to another SEC school. This has been playing out behind the scenes since mid-June, then became public Tuesday, when Samyra Smith spoke publicly following what she termed a "knock-down drag-out" meeting with Saban.
Two days later Alabama released a statement, explaining why Smith is being blocked but another Alabama graduate transfer, receiver Chris Black, was not stopped from going to Missouri.
"We adhere to the SEC and institutional policies regarding issues of this manner," Alabama's statement read. "Waivers are not provided without compelling circumstances that present clear non-athletic reasons for the transfer. We remain happy to assist Maurice to enable aa transfer to any non-SEC school, and have been doing everything requested regarding that throughout this process."
That part bothered Smith's mother. For one, Maurice Smith notified Alabama of his desire to transfer in mid-June, and it was only earlier this week, according to Samyra Smith, that Saban checked a box releasing Maurice to transfer to a non-SEC school.
For another thing, Samyra Smith saw the statement as Alabama hiding behind the SEC.
"No SEC rule is preventing Mo from playing at Georgia tis year," Samyra Smith said. "Nick Saban is blocking him and he is also acting as the SEC commissioner with his comments. The SEC voted to include a waiver, that if five criteria were met, the student-athlete could potentially be waived to sit out a year. Why would any coach who tells recruits and their families that he cares about the kids, not want to help one of his own be successful?"
Next
Towers: A dose of new reality with UGA's new Fans Day