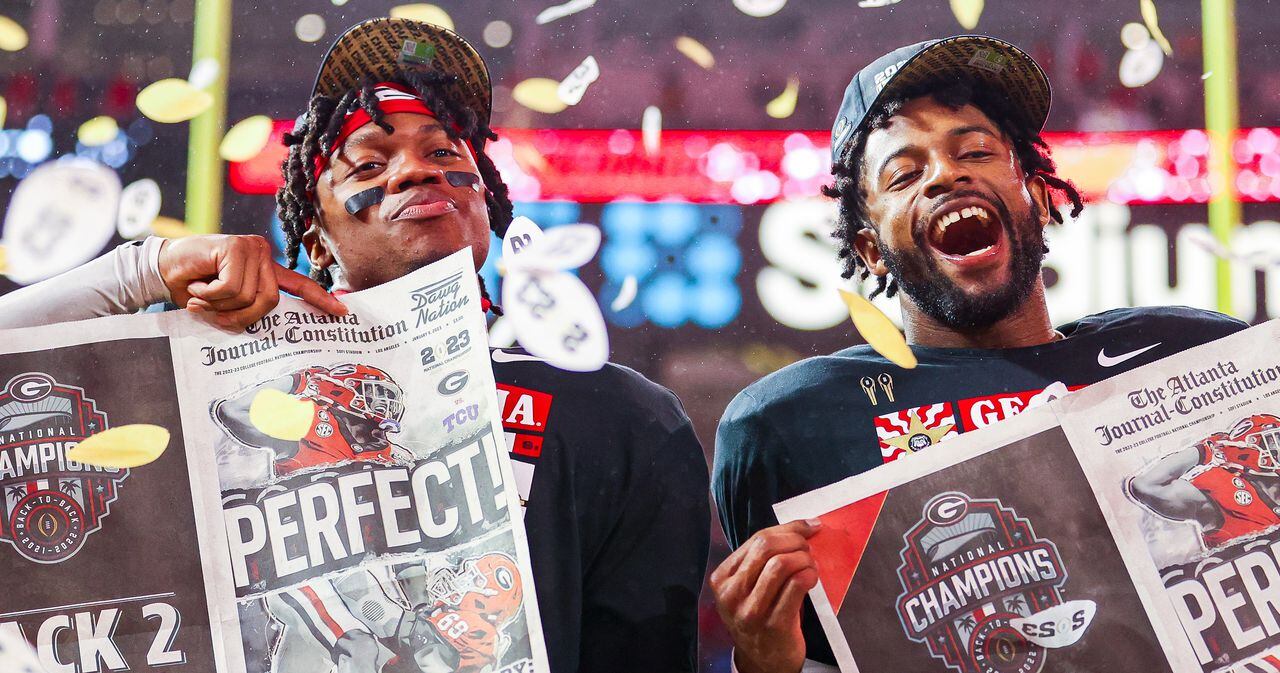 Georgia football three-peat talk 'definitely legit,' departing team captain Chris Smith reveals why
MOBILE, Ala. — Georgia football departing team captain Chris Smith knows a secret, just like he did a year ago.
"A lot of people didn't know the amount of talent we had then, and the amount of talent we still have there," Smith said, asked at Senior Bowl Media Day about how Georgia made a championship run after losing a record-15 NFL Draft picks last year.
"We definitely have the capacity to go win another one. (Three-peat) is definitely legit, we have all the talent in the world to be able to do it," Smith said, appearing more excited to promote his beloved Georgia football program than himself.
But Smith, who is competing in the Mobile, Ala., all-star game this week along with teammates Kenny McIntosh, Jack Podlesny and Warren McClendon, believes another championship roster has been left behind.
Especially at quarterback, where he doesn't expect there to be any drop off.
"I think all of those guys got it, especially (with) Carson, Brock and Gunner is down there on scout team with guys every day, and he's letting it rip," Smith said.
Most recently, there have been worries that gifted offensive coordinator Todd Monken might leave the program behind, possibly in search of greener pastures in the NFL.
Smith explained why Georgia football is built to sustain, even while there have been notable setbacks and distractions.
"It's part of the connection and brotherhood," Smith said. "Sometimes things go wrong, and you keep everyone in your prayers, and you put your head down and continue to work.
"We just try stay level-headed throughout it all."
Smith said the returning players are in a challenging stretch of the offseason at this time of year.
"Winter workouts, they are getting after it, a lot of team run, a lot of lifting," Smith said. "I'm pretty sure the guys miss football, but I think this is a time to make bodies, it's all about getting stronger and faster, and when spring ball comes around, I know they will get after it."
RELATED: Returning players embrace three-peat immediately after 65-7 win over TCU
Indeed, and many of the players transitioning into leadership positions were relative unknowns at this time a year ago.
Those were the players Smith knew Georgia had coming up through the ranks to fill shoes that not everyone was aware of.
"Jamon (Dumas-Johnson), Mykel (Williams), Nazir (Stackhouse), Smael (Mondon), Javon (Bullard), Kamari (Lassiter)," Smith said, going down a list of 2022 breakout stars.
"These guys, I knew they had it, so I was waiting for the world to find out."
Next
Source: Georgia QB battle will run into fall drills, optimism growing …