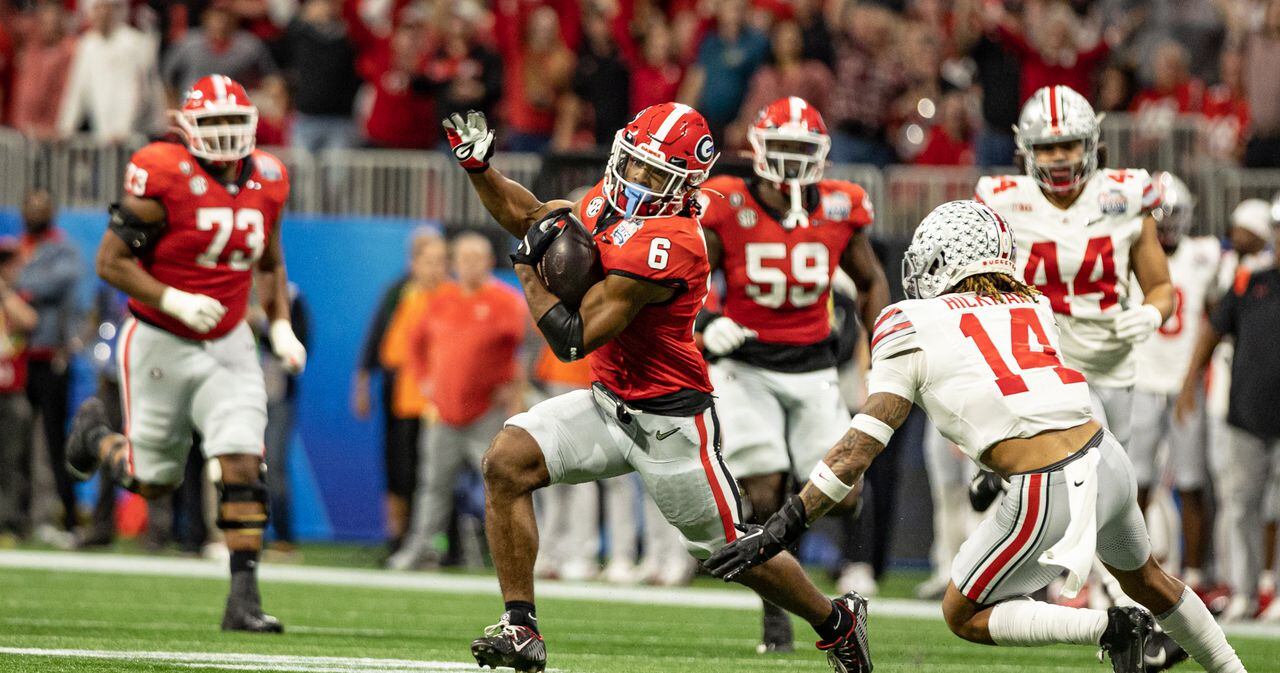 TCU coach Sonny Dykes braces for Georgia 'playmakers,' respects Todd Monken
LOS ANGELES — TCU coach Sonny Dykes is no stranger to offensive football shootouts, and he sounds braced for another against Georgia.
Dykes probably isn't wrong when it comes to the No. 1-ranked Bulldogs being on the verge of an offensive explosion.
Georgia has scored 92 points between its past two games, a 50-30 win over LSU in the SEC championship and a 42-41 win over Ohio State in the CFP Peach Bowl Semifinal last Saturday.
"It seems like Coach (Todd) Monken does a nice job of staying ahead of people as they adjust, he adjusts," Dykes noted, mentioning Georgia's celebrated offensive coordinator. "And they do a really good job getting their best players the ball. And they have a ton of playmakers.
RELATED: Todd Monken unfiltered, 'you're going to fire me if we suck'
"That's the thing that's unique about this team. Most of the time you play against a good team and there's two or three guys you say, look, we've got a really take this guy away. But Georgia has just so many good players and guys that are really exceptional talents."
Indeed, Bulldogs' tailback Kenny McIntosh has been historically effective and versatile, and yet he didn't even make All-SEC.
RELATED: McIntosh underrated among Georgia offensive stars
McIntosh is just the third SEC player since 2000 -- and first since 2009 -- to have more than 500 yards rushing, receiving and score more than 10 touchdowns in one season.
Georgia rotates in tailbacks Kendall Milton and Daijun Edwards with regularity, both of whom feature power and elusivity.
Arian Smith, meanwhile, had only three catches all season but stepped up to make three pivotal catches for 129 yards last Saturday, including a 76-yard TD reception.
RELATED: Arian Smith sprints out of shadows and into the spotlight
Georgia still has All-American tight end Brock Bowers, of course, he of the "Matrix Move" that netted a key first down against Ohio State. The Bulldogs might also have 6-foot-7, 280-pound target Darnell Washington, depending on his recovery from a lower-body injury against Ohio State.
Then there are UGA perimeter threats Ladd McConkey and A.D. Mitchell, along with playmakers Dominick Blaylock, Kearis Jackson and Marcus Rosemy-Jacksaint.
Carrying the load
Kenny McIntosh
184 touches, 1,278 yards, 12 touchdowns
(42-505-2 receiving, 142-779-10 rushing)
Ladd McConkey
75 touches, 991 yards, 7 touchdowns
(53-674-5 receiving, 6-120-2 rushing, 16-197 punt returns)
Brock Bowers
63 touches, 884 yards, 9 touchdowns
(56-790-6 receiving, 7-94-3 rushing)
Daijun Edwards
147 touches, 828 yards, 7 touchdowns
(12-89-0 receiving, 135-731-7 rushing)
Kendall Milton
80 touches, 623 yards, 8 touchdowns
(5-64-1 receiving, 75-559-7 rushing)
Darnell Washington
27 catches, 426 yards, 2 touchdowns
"You can't go into a game and just say, okay, if we take this guy away then they're going to have problems," Dykes said. "That's not the case with their offense."
To that point, Stetson Bennett had completions of 20 or more yards to seven different targets last Saturday.
"They do a great job throwing the ball, they do a great job running the ball, they're very efficient, really good on third down, really good in the red zone," Dykes said. "You sit down, look at all the important characteristics for an offense, and they check the box in every single one of those.
"They're just a team that really doesn't have a lot of weaknesses. So that's the thing about them."
The Horned Frogs, meanwhile, have scored 38 or more points in 10 of their 14 games and are coming off a 51-point explosion in their CFP Fiesta Bowl Semifinal win over Michigan.
It will also be noted by the Georgia coaching staff that it was TCU offensive coordinator Garrett Riley — not Monken — named the Broyles Award winner as the nation's top assistant coach.
Dykes was also named the Eddie Robinson Coach of the Year over Smart.
Next
Georgia football fans flocking to Los Angeles, but bettors like TCU, …