Georgia Bulldogs, Kirby Smart cash in on football investments with blue chips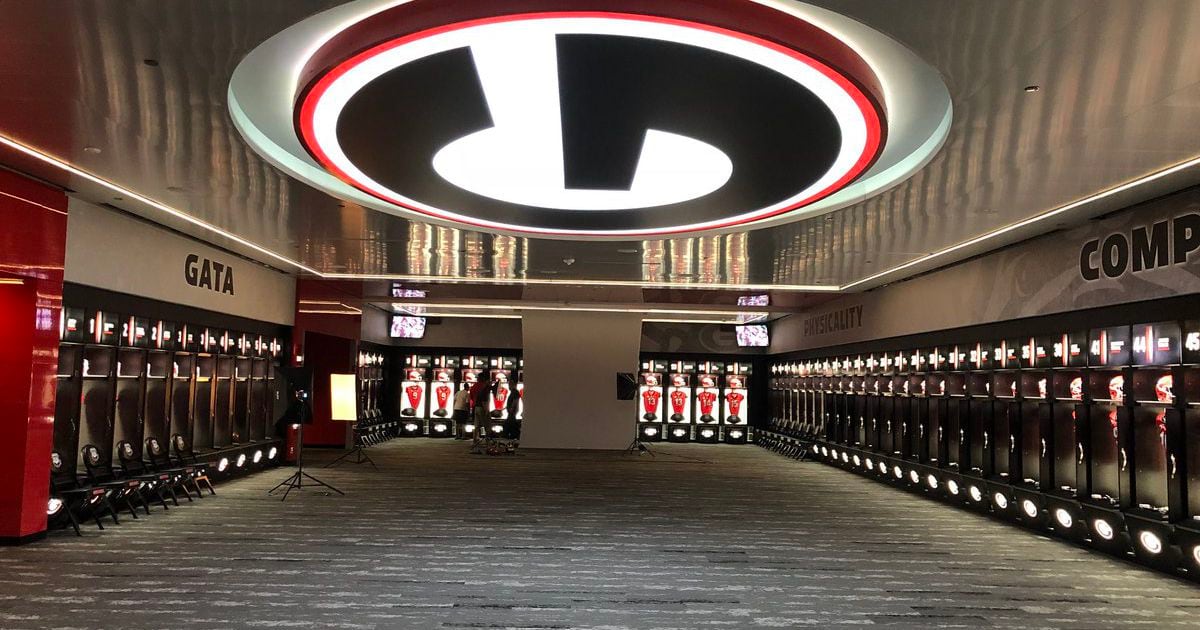 ATHENS — Georgia showed off its new $63 million dollar locker room to a bunch of elite recruits this weekend. Not coincidentally, three of them committed to the Bulldogs on Sunday.
And that's just the public haul. No telling how many of these kids may have privately pledged to UGA or might have at least had their choices clinched in their hearts. I'd imagine we haven't seen the last of the commitments this summer. Regardless, it was a bountiful weekend for the Bulldogs, to say the least.
I'm still astounded by the price tag on the two-story, brick building that Georgia has erected between the West grandstand at Sanford Stadium and Sanford Drive. Sure, it incorporates a bridge and scoreboard and has a creek running beneath it, but 63 and six zeroes for two 17-foot floors of brick and glass? Geez.
Suffice it to say, it's nice. And I'm starting to think the shiny new place might pay for itself in short order. I mean, how much is a great football player worth to the university anyway? How would one even begin to quantify that? Surely somebody over in UGA's prestigious Terry College of Business has come up with a number.
Whatever it is, Georgia got some significant return on its investment this weekend. The Bulldogs landed commitments from three out-of-state prospects on Sunday and all of them have a lot of stars in their recruiting profiles. John Emery Jr. is a 5-star running back out of Destrehan, La.; Rian Davis is a 4-star prospect out of Apopka, Fla., who's considered the No. 5 linebacker in the country, and Makiya Tongue is a 4-star outside linebacker out of Baton Rouge.
Speaking of Tongue, his father, Reggie Tongue, played safety in the NFL for 10 seasons. But that's not even the most intriguing thing about his commitment. Makiya attends University Laboratory School, which is literally ON the LSU campus. He can walk eight-tenths of a mile to Tiger Stadium, which I'm sure he will on Oct. 13 when LSU plays host to the Bulldogs in Baton Rouge.
Same thing with Emery. He can't walk to Tiger Stadium, but his hometown of Destrehan is on the west side of New Orleans and right there off Interstate 310 on the way to Baton Rouge. To say that is LSU territory doesn't do it justice (the entire state of Louisiana is LSU territory, after all). But a 5-star running back plucked from the banks of Lake Pontchartrain when the Tigers are in dire need of some backfield talent does not sit well in bayou country.
Georgia's road trip to LSU already was by far the most sought-after away ticket for the DawgNation this season, but I'm guessing the price just doubled based on these latest developments. And the temperature just went up on Ed Orgeron, who was already feeling some heat as LSU's coach. If you don't think so, just check out some of the LSU Twitter feeds.
The Tigers' issues aside, it really is amazing what some stainless steel, bright lights and really big letter G's can do to the sensibilities of young minds. Don't get me wrong, I think the new locker room — and adjoining recruiting lounge — was badly needed at Sanford Stadium. The Bulldogs had been dressing within those same cinderblock walls underneath the East grandstands since I was in school at Georgia. Believe me, that's been a long time.
But this is really not about a fancy place to change clothes. For Georgia, it's a demonstration of its commitment to compete at the highest level in the SEC. Like the indoor practice facility that came before it, it's the Bulldogs saying to recruits and the rest of the country, "we're all in; we're in it to win it."
There's more coming, too. An expanded weight room, new coaches' offices and meeting rooms are on the way soon. Alabama just this summer opened a new 25,000 square-foot Sports & Nutrition Facility. You can bet that it's only a matter of time before Kirby Smart has something similar in the works for UGA.
Smart's acumen as a businessman is the side of this whole phenomenon that has probably gone under-reported. There's a reason Georgia's head coach has changed the format of the Bulldogs' annual coaches' caravan from a mobile pep rally into donor-targeted fundraisers. Smart came to Georgia with a specific shopping list of needs to be met that would put the Bulldogs on equal footing with Alabama and the other powerhouse programs at this particular point. The state Board of Regents has a requirement that any major construction projects must be at least half-funded from donations. Smart is doing his part to assist in those efforts. And UGA alumni and supporters are responding.
More importantly, Smart is making good on his side of the equation, too. He is making sure that the Bulldogs put top-notch players in those top-notch facilities. Be assured, there was no fluke in the timing of all those elite recruiting prospects being in town this weekend for the big reveal of Georgia's new space at Sanford Stadium
Then again, it's Smart's job to make sure Georgia wins at a level commensurate to its spending. Build it and they will come, if you will.
Right now, they're coming. The elite recruits are, at least. The Bulldogs are banking on wins coming as well. They came at the rate 13 last year, and Las Vegas is betting on double-figure victories again this season.
Right now, I'd say that's a pretty good bet. This was the last weekend of dedicated recruiting for Smart and his staff. Practice starts Friday. It's hard to imagine any team carrying more momentum into preseason camp than the Bulldogs.
Hang on, folks. This is just getting good.
Next
Transformation of offensive line keyed Kirby Smart's turnaround at...