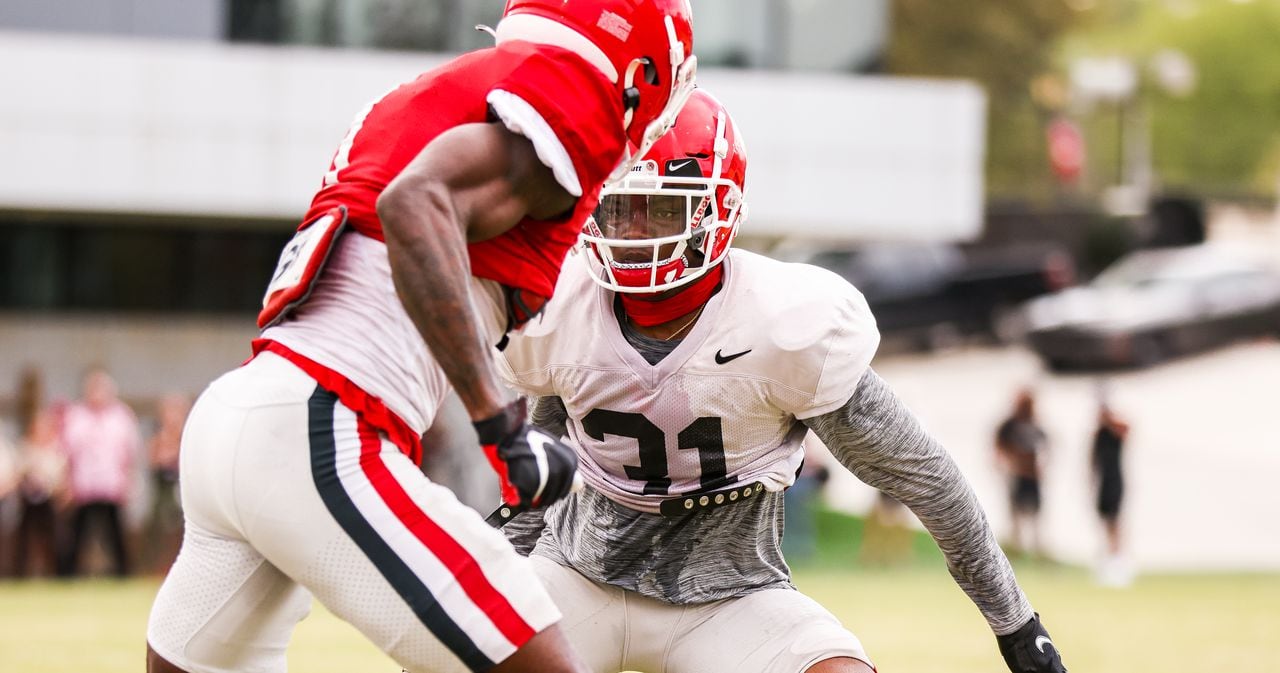 Georgia football playing the long game with versatile defensive back Smoke Bouie
Welcome to Good Day, UGA, your one-stop shop for Georgia football news and takes. Check us out every weekday morning for everything you need to know about Georgia football, recruiting, and everything else UGA.
Smoke Bouie adjusting to new life at Georgia
ATHENS — It has been hard to get a read on Smoke Bouie this spring for Georgia. That's by design for the Bulldogs, as his versatility is a big reason he is now in Athens.
Most thought Bouie would come in and push for playing time at either safety or star. And to be sure he still might. But to this point, he's worked at the cornerback position as well.
He's made a quick impression on teammates this spring, noting his ability to move around the Georgia's secondary. He's also still a young player, as he's entering his second collegiate season.
"Very, very handsy player. I love watching him play. He gets hands on receivers, very physical at the point of attack," defensive back Javon Bullard said." Very quick and agile. He moves well. I think he's going to make a great fit for our team."
Georgia has known about Bouie for quite some time. He first began camping at Georgia in the ninth grade and was at one point at Georgia commit in the 2022 recruiting class.
Had Bouie maintained that commitment, he might be further along in his collegiate development. But he backed off and ended up signing with Texas A&M.
Bouie's first season of college ball did not go to plan. He played in just seven games for the Aggies and was suspended for violating team rules. Texas A&M went just 5-7 last season, a far cry from Georgia's 15-0 national championship.
Georgia added three players from the transfer portal this offseason, with Bouie being the lone addition on the defensive side of the ball. Dominic Lovett and Rara Thomas also come from SEC schools, but they are far more proven players than Bouie to this point.
"Smoke is also one of those guys that's just hungry, you know, coming in from a different school," defensive back Kamari Lassiter said. "It's kind of tough, you know, coming into a different environment because you don't really know anybody."
Bouie's versatility is a big reason why he's in Athens at this point. As head coach Kirby Smart has laid out, Georgia does have openings in the secondary. Gone are safety Chris Smith and cornerback Kelee Ringo. The Bulldogs have plenty of viable candidates at both positions. Daylen Everette, Nyland Green and Julian Humphrey are the names to know at cornerback.
Safety is a more interesting position at this point. Georgia has a wealth of options available. It could even move Bullard to the spot, freeing up the star position.
Related: Javon Bullard, Smoke Bouie and how Georgia football can go about replacing All-American Chris Smith
Bouie isn't the first transfer to show up in Georgia's secondary. In fact, one of the players he's competing is also a former transfer. That would be Tykee Smith, who arrived at Georgia prior to the 2021 season. He came in with even higher expectations, as he was an All-American for the Mountaineers.
A torn ACL has limited his impact at Georgia, but he too has the versatility to play in a number of spots for the Bulldogs.
Next
How Georgia football veterans look to go from good to great during …