WATCH: Nolan Smith sheds tears for Devin Willock, provides passionate testimony for Georgia football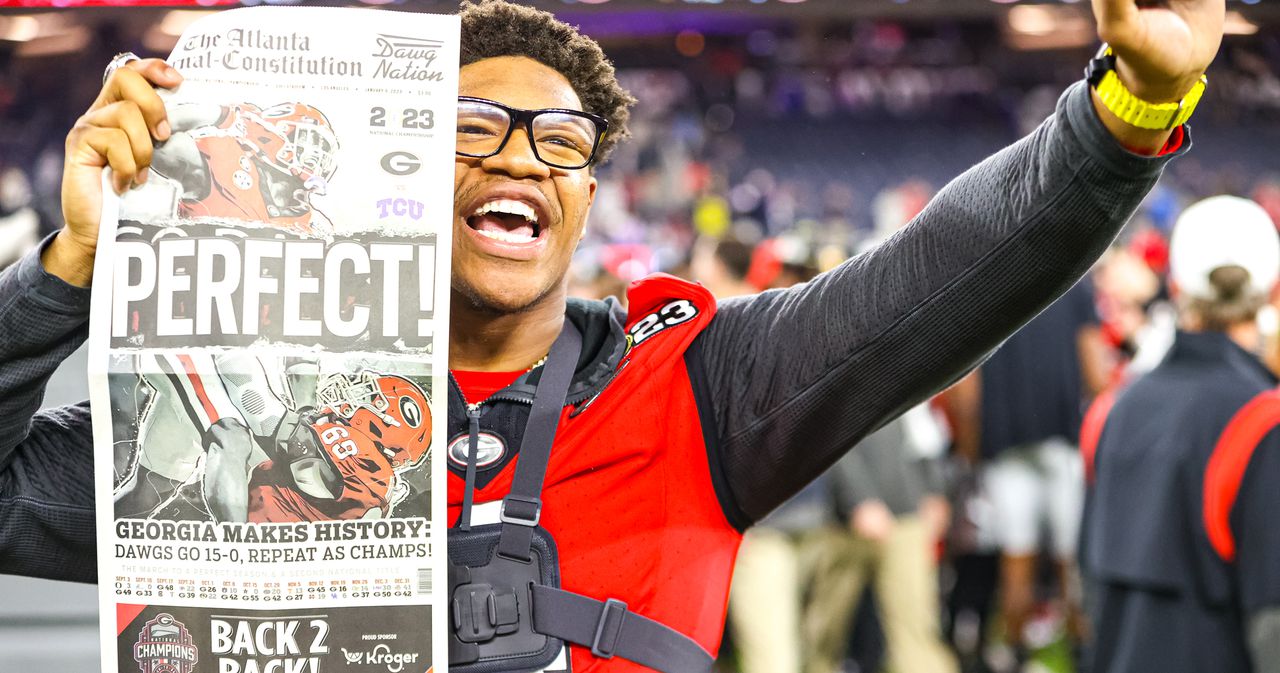 INDIANAPOLIS — Nolan Smith provided some insight into what makes Georgia football tick at the NFL Combine on Wednesday.
Smith spoke with passion and emotion about his beloved Bulldogs, explaining the team chemistry after shedding tears for teammate Devin Willock, who died in a tragic car accident in January.
"Most people think it's just a game, man, those are my brothers," said Smith, a Georgia team captain and All-SEC outside linebacker.
RELATED: Why Super Bowl NFL GM says Georgia players 'trained the right way'
"It's more than a game, especially at Georgia, that connection piece is a real."
National media saw just how real it was when Smith broke down behind the microphone when asked about Willock's death (7-minute mark in video below) in the well-documented Jan. 15 crash in Athens.
RELATED: More difficult details emerge from tragic accident
"That's my guy, that's one person that never did anything wrong, I get sensitive talking about it because I love him," Smith said, removing his glasses to wipe tears from his eyes.
"He never did anything wrong in three years, he was supposed to graduate, most people don't know his brother passed like that. I'm sorry for his family, no one deserves to die like that.
"Three years in a row that man showed up working, day in and day, he's a two-time national champ. Devin I love you, 7-7 … Do it for Dev, that's what I tell them boys at Georgia, you lost a brother."
RELATED: Georgia football NFL Combine preview, quick hits on the Bulldogs
Coach Kirby Smart talks about how Georgia's connection has enabled the program to separate from the pack.
The Bulldogs are the first program to win back-to-back championships in the CFP Era, and they produced a record-15 players in the 2022 NFL Draft and have 12 more players present at this year's NFL Combine.
Beyond the connection, Georgia holds fierce workouts with intense competition.
Smith went into graphic detail about just how rough things get on the practice field.
"I will never forget my first fall camp practice, Solomon Kindley broke my nose, and it was just leaking," Smith said, referencing the 335-pound offensive guard currently with the New York Giants.
"I was like, no, I ain't going out sad, and I put a tampon in (my nose) and cut it, and we went to work."
Smith said it was like that every day, and there were many lessons he learned playing behind another member of the Giants' NFL team, Azeez Ojulari.
"I remember closing on counters every day, and seeing Azeez do it," Smith said. "Azeez would close on counters from the apex, and I saw him bend somebody's face mask one time, that's at practice. We practice hard at Georgia."
Smith put that hard work to good use throughout his career, including one memorable performance against Florida when he essentially took over the game.
With Georgia leading 3-0 late in the second quarter of the 2021 meeting, Smith forced a fumble, recovered a fumble, and then pulled in an interception in a 39-second span, sparking the Bulldogs to a 24-0 halftime lead.
Even after suffering a torn pectoral muscle injury in the eight game of the season, Smith remained engaged with the team, helping to lead and direct traffic from the sideline.
Smith's Nov. 1 surgery will prevent him from lifting and taking part in other NFL Combine metrics, but he still plans to go through field drills.
"I play football, I haven't done anything in a long time, everyone thought I died," Smith said of how the injury has lowered his profile and draft stock. "I turned off the mock draft and I turned off my phone. I picked up a book, 'you can't hurt me.' I wanted to create an iron mind that nobody can hurt me.
"No matter what you say about me, I'm just going to go to work."
NFL teams will be watching and listening hundreds of draft hopefuls this week, but when it comes to the engaging Smith, they will also be absorbing.
UGA News
Next
NFL Super Bowl GM: Georgia players 'trained the right way,' combine …