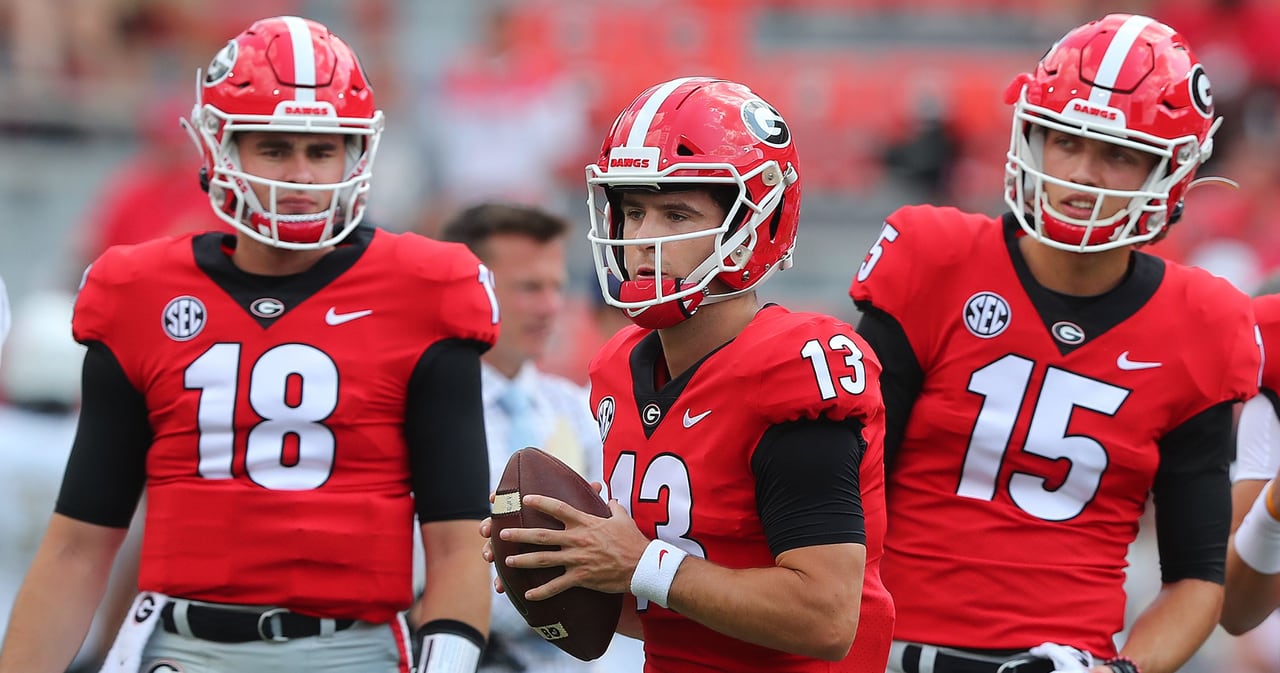 Georgia football podcast: UGA ignores fan debate, puts on entertaining show vs. UAB
Georgia football is the No. 1 topic every day on DawgNation Daily — the daily podcast for Georgia Bulldogs fans. Catch up on everything happening with UGA athletics with host Brandon Adams and the DawgNation experts as they break down the latest Georgia football recruiting news and discuss coach Kirby Smart's quest to return the Bulldogs to the top of the SEC. On episode No. 1,525 (Sept. 13, 2021) of the podcast, Georgia fans can hear a discussion about Bulldogs quarterback Stetson Bennett's record-setting day vs. UAB and the noise that surrounded it.
Georgia football podcast: UGA ignores fan debate, puts on entertaining show vs. UAB
Beginning of the show: Some fans were surprised to see Stetson Bennett start at quarterback for Georgia Saturday in place of the injured JT Daniels. However, no matter how surprised they might have been, they were undoubtedly pleased with his results.
Simply put, Bennett produced one of the best days for a Bulldogs signal caller in program history vs. UAB.
I'll talk more about Bennett's performance on today's show.
Five-minute mark: I discuss the unknowns surrounding Daniels' injury status.
10-minute mark: I address the decision not to start Carson Beck vs. the Blazers.
20-minute mark: Former UGA All-American Jon Stinchomb joins the show. Some of the topics covered include...
The quarterback drama leading into Saturday's game
An evaluation of UGA's offensive line
And the emergence of freshman tight end Brock Bowers as a dependable play maker
40-minute mark: I take a look at other SEC headlines including the latest news regarding South Carolina's quarterback situation ahead of Saturday's game vs. UGA.
45-minute mark: I share audio from UGA offensive lineman Jamaree Salyer discussing how he and his fellow UGA teammates feel about Bennett.
End of show: I award some Golden Shoe winners and update the Gator Hater Countdown.
After the show: I take questions and comments as part of the Podcast Cool Down.
NOTE: To be part of the Cool Down, please share your thoughts in the comment section at the bottom of the page.