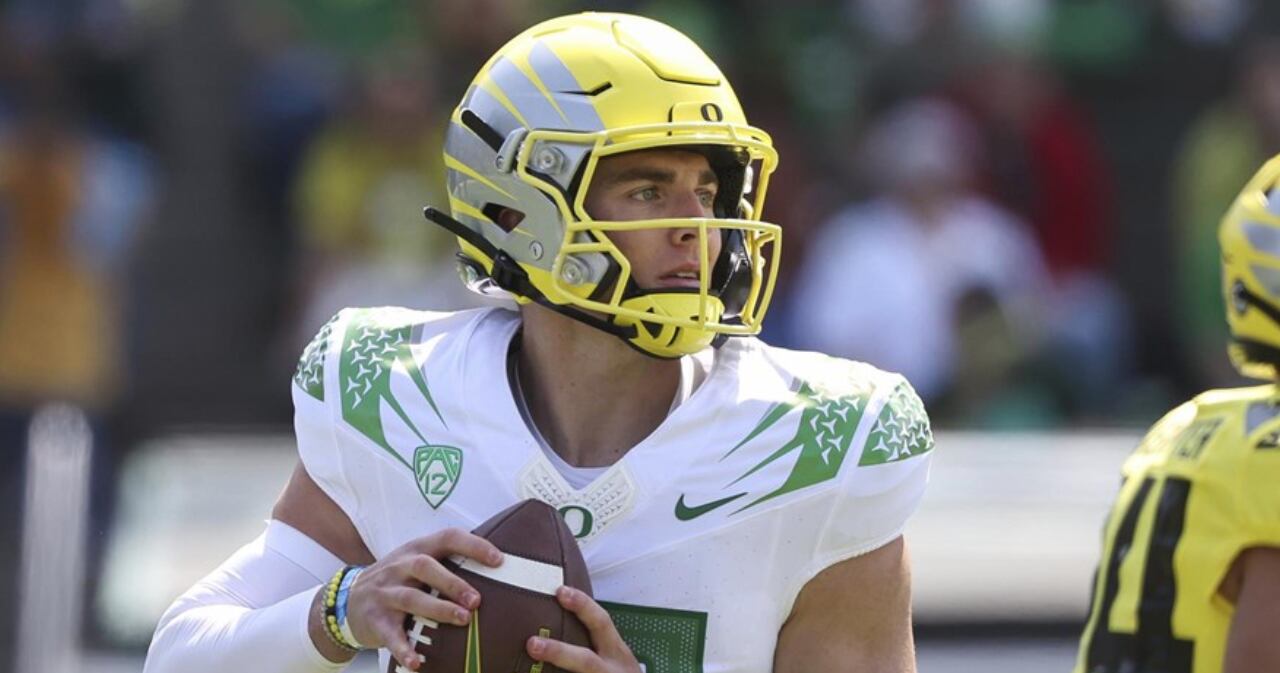 Dan Lanning keeping quiet on Oregon quarterback position ahead of opener against Georgia
Dan Lanning seems to have taken quite a few plays from the Kirby Smart playbook, as the former Georgia defensive coordinator is now running the Oregon program.
The two sides will meet to open the season in Atlanta on Sept. 3. Lanning has a quarterback battle on his hands as he takes over in Eugene, Ore. Lanning has been cryptic about the position, not yet naming a starter.
Something Smart has often been in the past on the most scrutinized position in sports.
"Yeah, I'm really excited," Lanning said at PAC-12 media days. "Just at the end of the day you want to know you have quarterbacks in your program you think you can win with. I think we have multiple guys that can do that, with Bo (Nix), Ty (Thompson) and Jay (Butterfield), have all been extreme competitors."
The Ducks have three options to pick from. He inherited Thompson and Butterfield from the previous staff. Thompson, a former 5-star recruit, completed seven of his 15 pass attempts for 87 yards last season, tossing two touchdowns and an interception. Butterfield had just three pass attempts, completing two of them.
Nix is the much more known entity, one the Bulldogs are quite familiar with. The former Auburn quarterback transferred to Oregon this offseason after an up-and-down career with the Tigers. Nix threw 11 touchdowns to 3 interceptions in 10 games in 2021, but his season was cut short due to an ankle injury. Nix has started three games against the Bulldogs, with Georgia winning all three.
But Nix's legs have created problems for the Georgia defense, as he has been able to escape countless pressures. The Ducks bring back a veteran offensive line, and Nix will be working with a familiar face in offensive coordinator Kenny Dillingham, who was his offensive coordinator at Auburn as a freshman.
Nix's offensive coordinator last season is actually on Georgia's staff, as Mike Bobo is now an offensive analyst for Georgia.
The three quarterbacks will battle it out in camp to see which one draws the unenviable task of opening up against the Bulldogs.
"Probably more than anything I've been excited with their passion to improve," Lanning said. "To be elite, to be a special player, you have to go above and beyond. All of those guys have really contributed in the success of what work they did this summer when people weren't watching, what it looked like when there weren't people standing on the field assessing their efforts. Those guys have put in a lot of extra work."
Related: Dan Lanning confident heavy underdog Oregon has team to beat Georgia, win national title
Smart himself knows all about life in a quarterback competition, as the Georgia coach has been in plenty while at Georgia. The Georgia head coach last season had the difficult choice to make between Stetson Bennett and JT Daniels.
The Bulldogs ended up going with Bennett, who led Georgia to its first National Championship since the 1980 season. Smart went into detail at SEC media days about said decision, as well as what he looks for in a quarterback competition.
"You want to go with the guy that gives you the best chance to win the game," Smart said. "We weren't trying to win just those games at that time — we were trying to win every game. So you have to be able to look outside of who we have to play and who we have to beat, who gives us the best chance to do that. And we ultimately felt like it was Stetson that gave us the best chance to do that."
Bennett is the unquestioned starter for Georgia entering the game against Oregon. He'll return a host of weapons along with offensive coordinator Todd Monken, who returns for a third season as well.
Next
Dan Lanning confident heavy underdog Oregon has team to beat Georgia, …