Jalen Carter takes center stage at Georgia football Pro Day; 3 other things to watch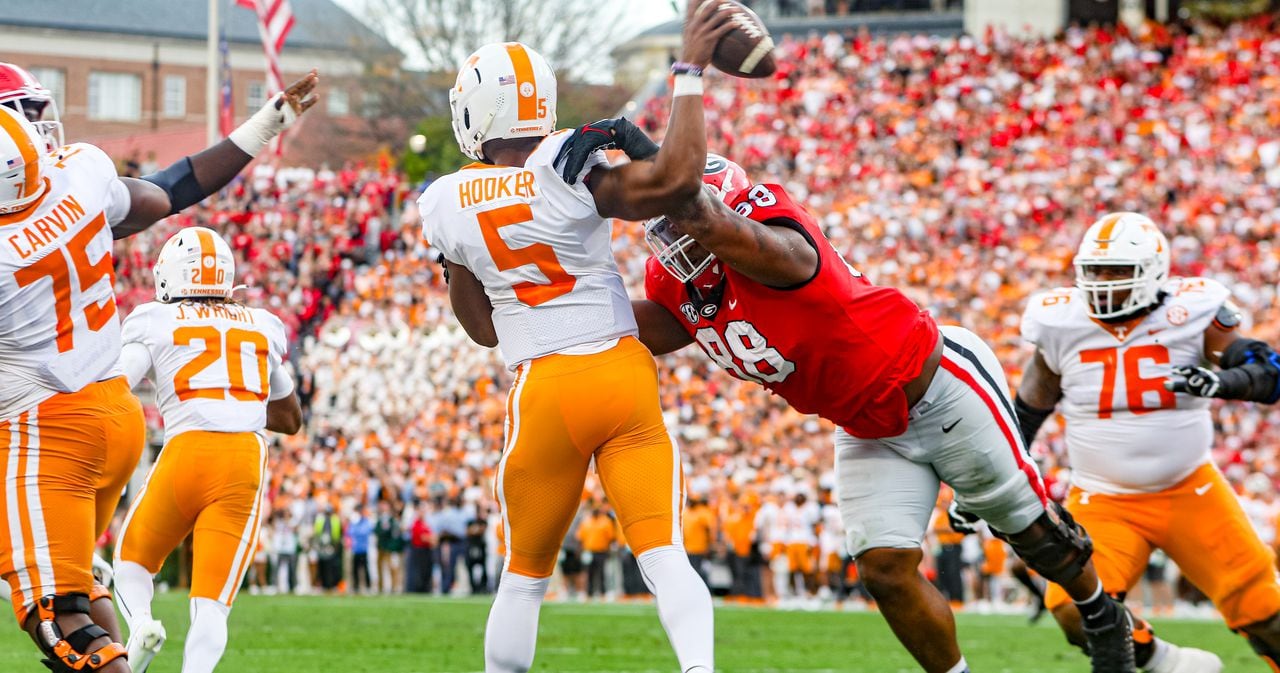 ATHENS -- Georgia football All-American Jalen Carter is expected to put his skills on display for NFL teams at UGA's annual "Pro Day" at the Payne Indoor Athletic Facility.
The 6-foot-3, 314-pound defensive tackle ranks among the most dominant defensive linemen in UGA football program history.
Indeed, it was Carter who swung the momentum in Georgia's 33-18 CFP win over Alabama with a blocked field goal, and again this season in the battle of No. 1 teams when he forced two fumbles and recorded two TFLs and a QB sack in the 27-13 win over Tennessee.
Carter was once widely projected as the No. 1 overall draft pick before his pending legal situation emerged.
Carter became the hottest topic at the NFL Combine earlier this month after Athens police issued a warrant for his arrest on charges of racing and reckless driving while he was attending the pro football audition in Indianapolis.
RELATED: Carter statement, plans to be "fully exonerated of any criminal wrongdoing"
Carter, who had announced he would not perform his drill work until this UGA Pro Day, returned to Athens to turn himself in before returning to the NFL combine to finish his interviews.
Today, however, the focus will be on Carter's noteworthy football skills; his power, explosiveness, footwork and balance.
The jury is out as to how far Carter might slip in the NFL Draft, as former veteran NFL GM Rick Spielman explained to CBS Sports HQ how franchise managers will do their "due diligence" before discussing the risk-reward of drafting Carter with ownership.
Carter is one of several Georgia football players who will work out at the NFL combine, though he could be the only projected first-round prospect who will break a sweat.
Nolan Smith, Darnell Washington, Broderick Jones and Kelee Ringo all enjoyed strong NFL Combine testing earlier this month.
WATCH: Georgia players have stock soaring after impressive NFL Combine workouts
Here are 3 things to look for outside of Carter's workout:
The 4.62 guys
Kenny McIntosh and Chris Smith arrived in Indianapolis with visions of 40-yard dashes closer to the 4.4 range than the 4.62 each turned.
McIntosh and Smith are expected to run again on Wednesday, even though both are proven playmakers who have demonstrated game speed and unique skillsets that should ensure they are second-day picks.
McIntosh is expected to perform in the vertical jump and broad jump as well, perhaps showcasing his explosive talents.
More Stetson Bennett
Bennett didn't surprise anyone with his improved mechanics at the NFL Combine and 4.67-second time in the 40-yard dash, but he's expected to put his arm talent on display once again at Georgia Pro Day.
And, once again, sources believe it will be Bennett's interviews with the teams that will ultimately determine his NFL Draft and roster value.
WATCH: Stetson Bennett shares how he'll approach NFL job
Bennett looks to bring the same determination and chippy attitude to the NFL as he looks to win place on a team and playing time, but a well-documented off-field incident in Dallas in January created some doubts the outgoing Georgia QB will look to erase.
Warren McClendon
McClendon was taking reps at the Senior Bowl in Mobile less than two weeks removed from being part of a well-documented crash in Athens that claimed the life of two fellow program members.
McClendon — who had also suffered a sprained knee in the SEC title game in December — has given his body some time to rest since then and declined the drill work and physical testing at the NFL Combine.
Today, McClendon is expected to test himself one again alongside teammates in the indoor facility.
UGA News
Next
ESPN NFL draft analyst shares best potential fit for Georgia …