Stetson Bennett thanks those who were always with him as he moves on to NFL challenges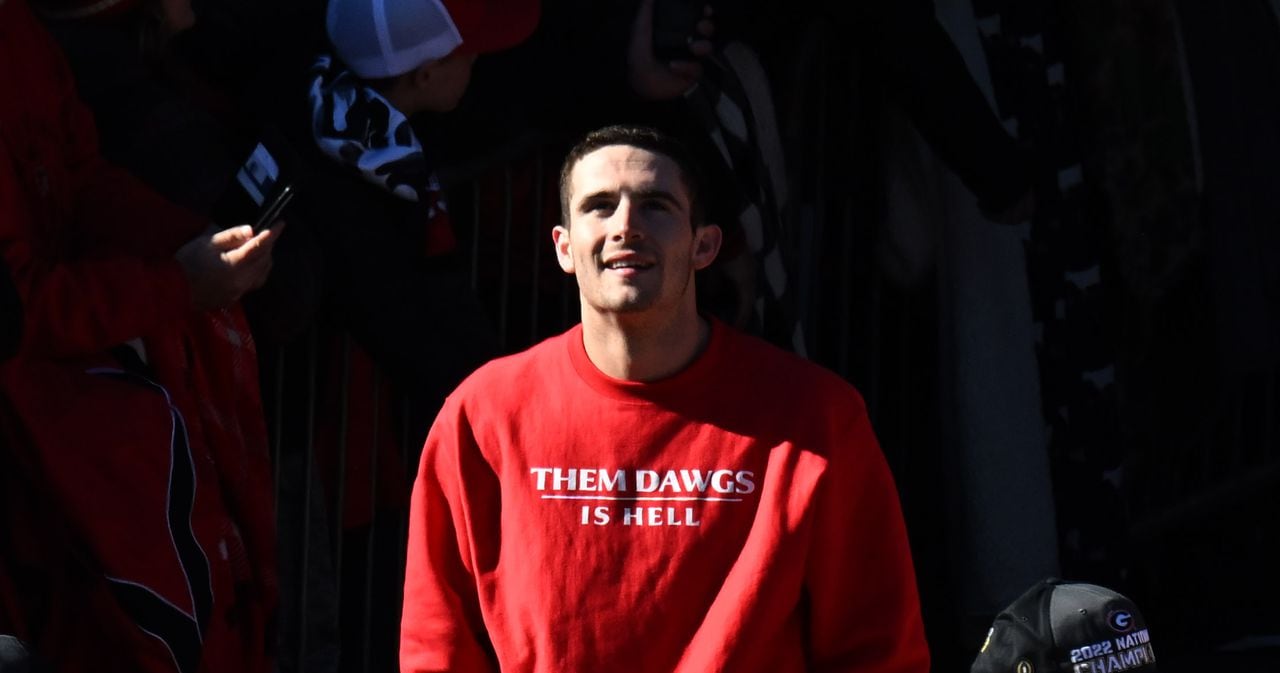 ATHENS — Stetson Bennett knew what he had to do immediately after his Manning Award press conference. While answering a question on if he felt disrespected by NFL teams, his dog threw up. No word on if his dog was barfing because of something it ate or the question.
As for the NFL, Bennett will be heading to Fort Worth, Texas to start training for the 2023 NFL Draft. He's still unsure if he'll be participating in next week's Senior Bowl, as Bennett is still waiting on that decision to be made.
Bennett does know the difficulty of what lies ahead in making it onto an NFL roster. He doesn't expect the experience to be all that different from what he had to do to make it in Athens.
"Then once you hopefully go to the NFL, I imagine it's the same thing," Bennett said. "People are going to have their opinions. My job is to go out there and play football. To get the ball in athletes hands and do it consistently and play hard and play to win. People can say whatever, I hear it but I don't really let it bother me."
Related: Stetson Bennett wins Manning Award as nation's top quarterback
Bennett isn't expected to be a first-round quarterback but the expectation is that he will be drafted in the 2023 NFL Draft. The recent success of Brock Purdy has changed the way some look at backup quarterbacks, especially ones that had as much college success as Bennett. Consider the Baltimore Ravens and Miami Dolphins started undrafted quarterbacks in their playoff games, while Kansas City had to dust off Chad Henne this week when Patrick Mahomes picked up an ankle injury.
In the event Bennett finds himself in the shows of Purdy of Skylar Thompson, he's proven he can come up big in big settings. Part of the reason Bennett took home the Manning Award — given to the nation's top college quarterback after factoring in postseason success — was because of well he played for Georgia to close out its 15-0 season.
Bennett did take time during his press conference to look back on what he accomplished at Georgia. And instead of pointing out how often he was doubted, he instead took time to thank the people that were always with him.
"I hope everyone can remember what it was like on that ride because it was nuts," Bennett said. "It was nuts. Them hating me, me hating them, us falling in love together and coming back, playing football, I mean it was special. I wouldn't change a single thing. I don't think I'd be here without it being that way. I just hope that everybody who was there and everybody who was with me and everybody I was with knows I appreciate the heck out of it. Everything.
"I don't know how it's going to be remembered but I do know that I appreciate it. I enjoy going and looking at it all."
Bennett brought up the The Last Waltz, the Martin Scorsese documentary about The Band's final performance when looking back on his final collegiate game against TCU.
"It was an ode to an era that is over now but it was pretty special whenever it happened," Bennett said.
It was not all celebratory though for Bennett in accepting the award, as he did take the time to share his thoughts on the recent passing of Devin Willock and Chandler LeCroy. Bennett was clearly emotional when asked about his memories of Willock and LeCroy, who both passed away in a car accident on Jan. 15.
The former Georgia quarterback made sure to point out that even as he leaves Athens, he'll always carry with him the memories he has of Willock and LeCroy.
"They were both special people. I don't know, it's tough to swallow," Bennett said. "They will always be with us and we won't ever forget them."
Related: Family of Devin Willock releases official statement: 'To know Devin simply was to love him'
Bennett's next act will be just as difficult as his time in Athens, if not more given the meat grinder the NFL is. Archie Manning, who presented the award to Bennett, joked he got sacked more times in one game against the Chicago Bears than Bennett did in his entire 2022 season at Georgia.
He grew up watching Peyton and Eli Manning play quarterback in the NFL, with both quarterbacks winning two Super Bowls in their NFL careers. Bennett won two titles at the college level for Georgia, something neither Manning was able to do once.
"Gotten to be able to talk to you [Archie] and Peyton and Eli and Cooper, learned stuff, take notes, go back and watch interviews, try to do it like them," Bennett said. "I remember my dad telling me when I was growing up, 'Watch Peyton and Eli. They do it right.' So I always did. This is special for me."
More Georgia football stories from around DawgNation
UGA News
Next
Georgia offensive lineman Warren McClendon accepts Senior Bowl invite