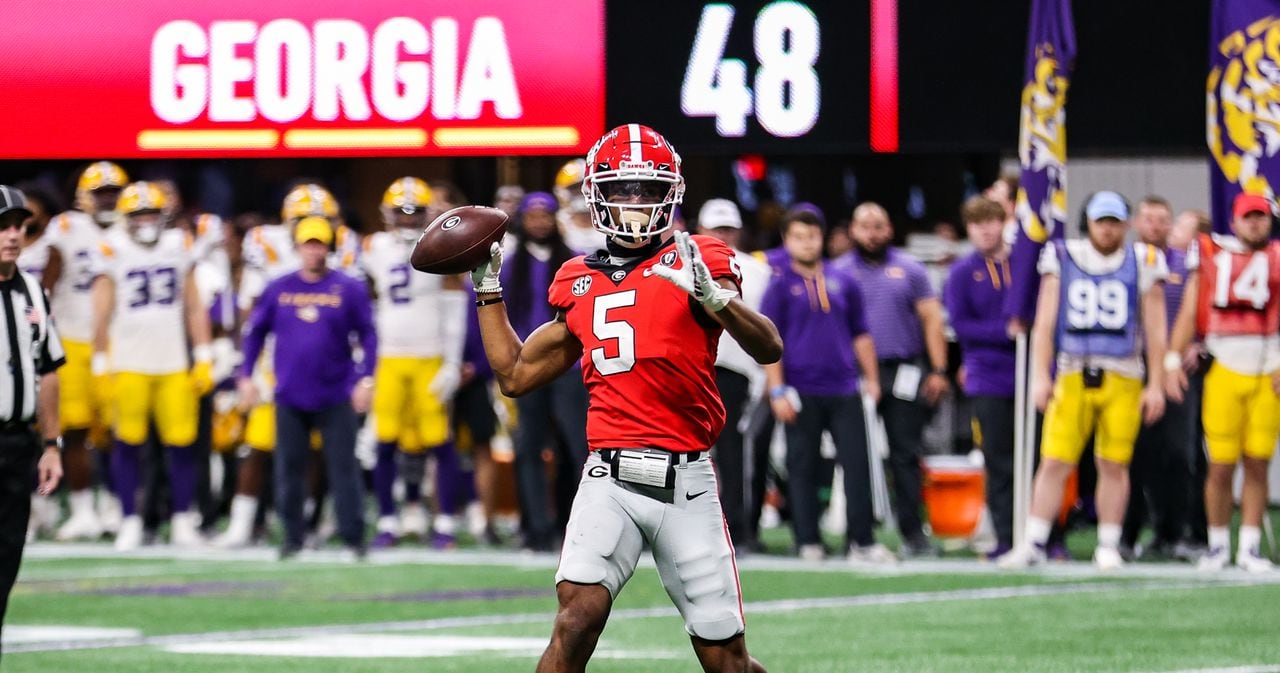 Stetson Bennett stresses importance of getting AD Mitchell going for Georgia football
NEW YORK — For as great as the Georgia offense has been this season, Stetson Bennett knows it can get better.
There's a big reason why that's the case. The Bulldogs, and Bennett in particular, know that wide receiver AD Mitchell can help further unlock the Georgia offense.
Mitchell returned to action against LSU, playing 15 snaps in the 50-30 win. But he did not record a catch, with his biggest impact coming on a two-point conversion pass to Darnell Washington.
An ankle injury has slowed Mitchell for most of the season. Given Mitchell had touchdown catches in both College Football Playoff games last season, Bennett knows what the wide receiver can bring to this offense.
And the Georgia quarterback made it clear that as practice gets underway for the Bulldogs, he's made it a goal to get the most out of the talented wide receiver.
"Me and 5 got to get back. We have to get back to being us," Bennett said. "That starts whenever I get back on Monday. we're worried about practice now, not playoff. We'll get to that later."
Georgia coach Kirby Smart shared his thoughts on Mitchell earlier in the month and stressed how important conditioning will be for Mitchell.
"He's worked so hard to get back and tried so hard to have a role," Smart said on Dec. 4. "I thought he did a really good job emotionally last night, not being up and down, because he's a kid that wants to do -- he's so energetic, he wants to do well, and sometimes he pressed. Last night he settled into the flow of the game nice, and it was nice to get him out there."
Georgia will have until Dec. 31 to get Mitchell back up to speed, as that is when the Bulldogs take on the Ohio State Buckeyes.
Even without Mitchell for essentially the entire season, Georgia's passing offense still found a way to be very productive. Bennett threw for 3,425 yards, the most ever by a quarterback under Smart, and 20 touchdowns on his way to being a Heisman Trophy finalist.
Related: Stetson Bennett finishes fourth in 2022 Heisman Trophy voting
Brock Bowers led the team in every receiving category once again, as the sophomore tight end also won the Mackey Award this season.
Ladd McConkey and Darnell Washington also posted career-best seasons this year. Bennett also took time to praise how much better those two have gotten and how they've helped the offense as a whole.
"If you look how much better Darnell is at running routes. He plays every play," Bennett said." The offensive line—I've got sacked seven times. Obviously, Brock. Ladd coming in. When has a dude that looks like me caught for that many touchdowns in an SEC schedule. If he would stay up, he'd have a few more. Dude is incredible."
Drawing everything up was offensive coordinator Todd Monken, who was named a finalist for the Broyles Award as the nation's top assistant coach.
This season has obviously not gone how Mitchell planned. After really coming on in last season's College Football Playoff, injuries wiped out his sophomore season. But now that he's gotten time to heal, he's got a chance to help this Georgia offense once again when it matters most.
Stetson Bennett explains what comes next for AD Mitchell
More Georgia football stories from around DawgNation
Next
What social media is saying about Georgia football, Stetson Bennett …