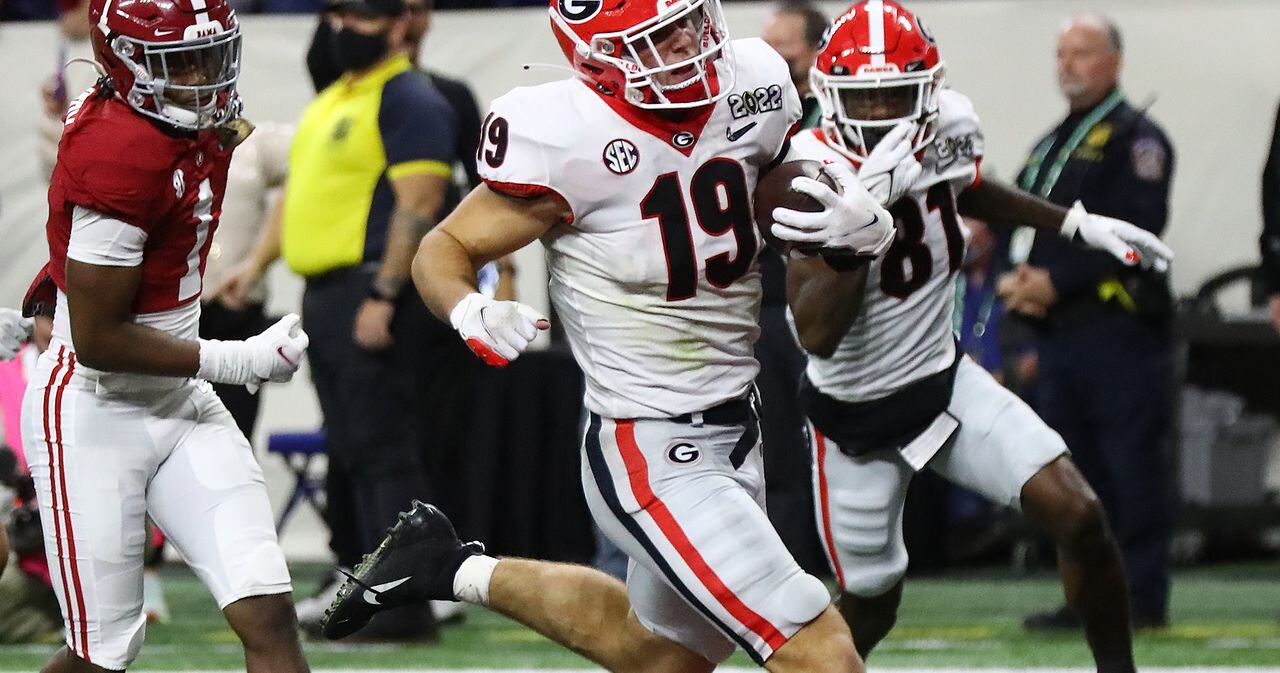 Three Bulldogs land on ESPN"s 'Way-Too-Early' All-American team for 2022
Georgia's team will look different in 2022 as it has to replace All-Americans like Jamaree Salyer, Jordan Davis and Nakobe Dean.
But don't expect the Bulldogs to take too big of a step back in the upcoming season, as Georgia's team is still brimming with talent. ESPN's Chris Low certainly seems to think so as three Bulldogs made it on Low's 'Way-Too-Early' All-American team for the 2022 season.
The most-obvious selection was tight end Brock Bowers, who will return for his sophomore season. Bowers caught 13 touchdowns as a freshman while leading the team in receptions and receiving yards. Bowers scored a touchdown on Georgia's final offensive play of the 2021 season, scoring on a 15-yard catch and run in the 33-18 win against Alabama.
Related: Brock Bowers named Freshman of the Year by FWAA
Two Bulldogs made it on the defensive side of the ball, with Kelee Ringo manning one of the cornerback selections. Ringo had a pick-6 to officially knock out the Crimson Tide in the championship game. In his first year as a starter, Ringo finished with 34 tackles, two interceptions and eight pass breakups.
Low had high praise for what Ringo could develop into.
"The 6-2, 205-pound Ringo is an excellent tackler and has the size and skills to smother receivers," Low wrote. "He started his final 12 games as a redshirt freshman and is poised to be one of college football's best all-around cornerbacks in 2022."
On the defensive line, Jalen Carter also earned recognition from Low. Carter could perhaps be the most talented player on Georgia's team next season. While working in rotation with Davis and Devonte Wyatt, Carter finished with 37 tackles and 27 quarterback pressures, which ranked second on the team. With Davis and Wyatt both off to the NFL, Carter should become the star in the middle of Georgia's defense.
Carter has also shown he can impact the game on offense and special teams. He blocked a field goal in the win over Alabama and played some fullback in goalline packages for Georgia this season.
"He's a talented player, and the sky's the limit for him," Georgia coach Kirby Smart said of Carter after the win over Alabama. "He's got to figure out what his ceiling is and make sure he plays with great effort all the time."
Related: Jalen Carter does it all for Georgia football in National Championship victory: 'The guy is a stud'
The three players were tied for the second-most from any team, as Ohio State also had three players appear on Low's list. Alabama placed four players, led by quarterback and Heisman Trophy winner Bryce Young.
Other players who could develop into All-American type players include offensive tackles Warren McClendon and Broderick Jones, edge rusher Nolan Smith and safety Chris Smith. Georgia is expected to be a top team to start the 2022 season, with many expecting Georgia to come in at No. 3 behind Alabama and Ohio State.
The Bulldogs open the 2022 season against Oregon on Sept. 3.
More Georgia football stories from around DawgNation
Next
ESPN identifies top Georgia football newcomer for 2022 season