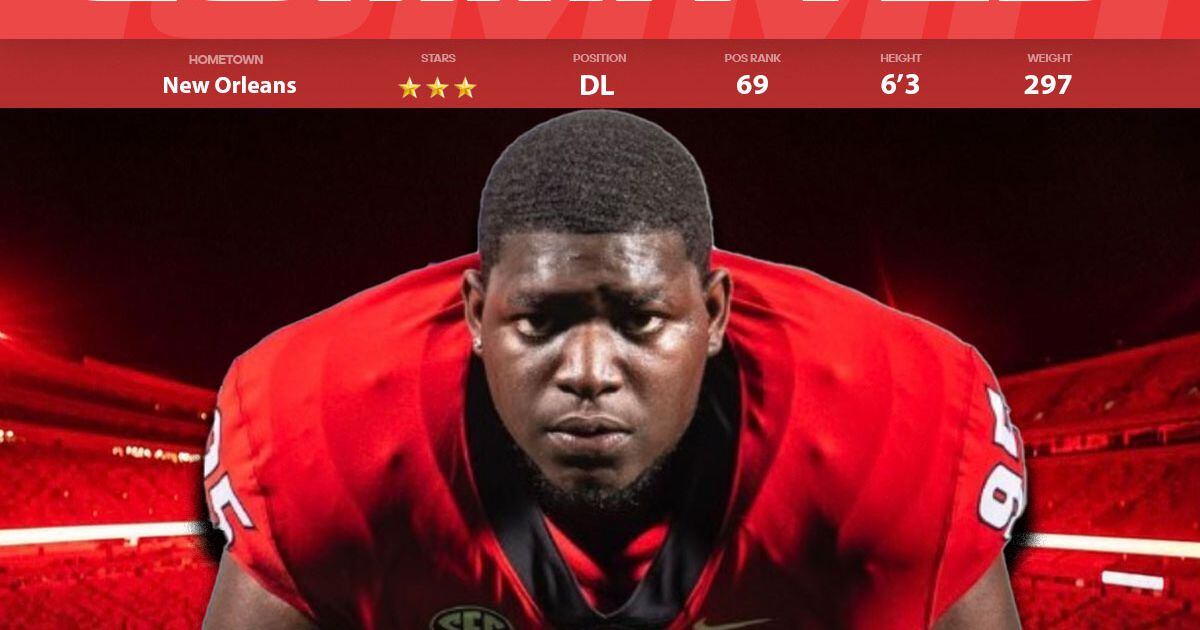 BREAKING: 3-star DT Shone Washington has made his college decision
Florida. Georgia.
It must be noted that one of those programs just named its new head coach this week. The other school is an unbeaten 12-0 and in the midst of its finest season in 41 years.
The Louisiana native, who visited UGA three times including an official visit earlier this month for the Charleston Southern game, chose the Bulldogs on a live stream from his Instagram account.
That was the only one of those two programs he took an official visit to this fall. Why did the 3-star DT choose to play for Tray Scott and Kirby Smart at Georgia?
"I like Georgia a lot," he said. "I just know that is a place I can go in and develop at and fit into the defensive system."
Washington said his official visit really put the 'Dawgs on top in this one. Starting center Sedrick Van Pran-Granger hosted him on that visit. Those two were former teammates at Warren Easton High School in New Orleans in Louisiana.
"I played with him my freshman year," Washington said. "That year was really live. We had our battles. He put me on my tail a couple of times. I was just a freshman, but I beat him, too."
He really enjoyed watching the Bulldogs play live. He said he saw himself out there doing the same things on that field.
"Them dudes they really did their thing out there," he said.
Washington told DawgNation that he's 6 feet, 4 inches and 295 pounds at this time.
What is his best attribute for playing the defensive tackle position?
"I would say my agility,' he said. "I'm good at both stopping the run and pressing the passer, but I would say I am a better run stopper."
He's also known to many as "Rilla" on the field. He got that name from his uncle about 1-2 years ago. It is short for Gorilla for the way he rampages in the trenches.
The Bulldogs were actually the first school he visited in June once the nearly 18-month dead period was lifted by the NCAA during the pandemic.
Did you know the weekly DawgNation.com "Before the Hedges" program is available as an Apple podcast? Click to check it out and download it.
Shone Washington to Georgia: What it means for DawgNation
Washington ranks as the nation's No. 69 DL prospect and the No. 454 overall recruit for 2022. That's per the 247Sports Composite rankings.
He is the fifth recruit with a 3-star ranking in this Georgia class. That's the first step on the way to framing up this decision.
Washington's pledge keeps the Bulldogs ranked at No. 1 overall on the 247Sports Team Composite rankings for the 2022 cycle.
"Rilla" is also the second Bulldog commit in this class that didn't play his senior season of high school football. Washington joins massive 6-foot-8 Tennessee OT prospect Jacob Hood as future members of the program that chose to focus on their schoolwork and training to prepare themselves for the next level.
Freshman wide receiver A.D. Mitchell, a surprise this year, also the fall season off before reporting to Georgia in January of 2021. Yet that came after he chose to reclassify to the 2021 class after his senior year in 2019.
That was a moment that helped him grow up and mature, he said.
"I just wanted to focus on my grades," he said. "It was what I had to do with me being out for the season."
That made the second season he missed in his prep career. It was reported by several outlets earlier in his career that he missed his sophomore season due to his state association's transfer rules.
He told DawgNation this weekend he does plan to graduate in December and enroll in January of 2022.
His choice brings up another intriguing wrinkle here: The one-time LSU commitment (decommitted in January of 2021) now becomes the seventh commitment in the Georgia class that was once committed to another program.
It continues the emphasis on the defensive side of the ball with this class. With the overpowering Bulldogs slated to lose so many top performers to the NFL Draft after this season, the Bulldogs seek to resupply those position rooms with elite prospects in this class.
Washington is now the 13th member of the 24-man commitment group to this point that will play on the defensive side of the ball. He's the third recruit that will play on the defensive line and the seventh in this class that will line up in the front seven.
"They know I can stop the run better than most," he said of what Georgia likes about him. "They want me to do more than just that, though."
He also now evens the class out in terms of out-of-state prospects versus homegrown Bulldog commits. There are now 12 commitments in the class from the state of Georgia and 12 from outside the Peach State.
The Bulldogs, he said, are expected to play him at a "3″ technique. That's where he feels he is the best at. Winning the point of attack in those one-on-one situations so he can get penetration upfield.
"All the schools that talk to me tell me that I can play at the '3′ to the '5′ technique," he said.
Check out his junior film below:
Have you subscribed to the DawgNation YouTube channel yet? If so, you will be able to see special 1-on-1 content with UGA names like Jake Fromm, Gunner Stockon and Brock Vandagriff here.
Beyond the game: Getting to know Shone Washington
Washington feels the best play he's ever made on his highlight film is the one that shows up first. That's Smart.
"You can see how explosive I came off the ball to make the tackle in the backfield," he said.
Go back and watch it again. Especially if you have not. He busts up the middle and knifes into the backfield with a quick couple of first steps. It flashes a little bit of his life as a former basketball player.
"I had some point guard in me, though," he said.
That allowed him to stretch out and extend to find the football a force an impressive tackle for loss. He likes to hit people, be aggressive and play the game violently.
It speaks to what motivates him to play the game at such a high level.
"I play this game for the fun of it and for my people," he said. "I mean since I was younger I always wanted to get my people out of the situation we are in. That is my why really. Just making a better life for everybody."
He's not sure about his intended college major but does plan to be a business owner one day.
"I just want to be successful," he said. "Just be a business person."
SENTELL'S INTEL
(check on the recent reads on DawgNation.com)
Next
David Cooper: Georgia's first-year recruiting relations director …