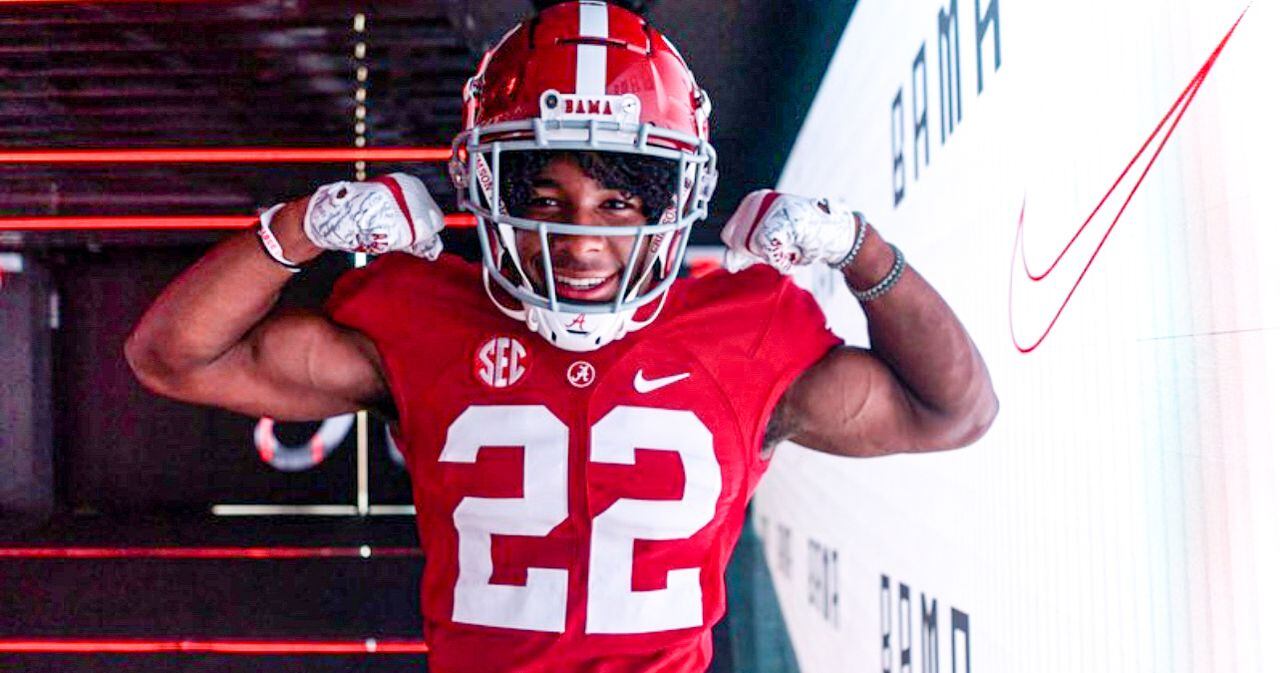 Justice Haynes: Legacy 5-star RB is a solid Alabama commit but will 'probably' visit Georgia again
Want to attack every day with the latest Georgia football recruiting info? That's the Intel. This rep has the latest with 5-star RB Justice Haynes. He ranks as the nation's No. 2 RB and the No. 30 overall prospect for 2023 on the 247Sports Composite ratings.
=========================================================
Justice Haynes remains solidly committed to Alabama. He took a recent visit to Tuscaloosa for the Texas A&M game and said that visit reaffirmed his verbal pledge to play for the Crimson Tide.
Georgia running backs coach Dell McGee was one of many college football coaches and recruiters at the Buford-Mill Creek mega matchup of No. 1 vs. No. 2 last Friday night.
While all of the others left at the half or just after it, there was one coach left. That was McGee.
Haynes remains solid with Alabama. And it looks like McGee is not going to throw in the towel for a special RB currently plowing through the Georgia High School football record books.
Can't both of those statements be true?
It appears McGee will go those bloody Rocky Balboa and Adonis Creed rounds for Haynes.
It also looks like he's going to have one more big bout next month. Haynes told DawgNation after Friday's game with Mill Creek that he was "probably" going to visit Georgia again for the Tennessee game.
"I still talk to Dell," Justice Haynes said. "I probably will visit for the Tennessee game. That's what looks like is going to happen."
His father, famed Georgia RB Verron Haynes, has a special connection to every Georgia-Tennessee game. Verron Haynes is forever linked to the Vols after that timeless "Hobnail Boot" win back in 2001.
"My Dad always goes back to that game," Justice Haynes said. "It is going to be good to just go up with my Dad and my family. Just go enjoy that. Spend that time."
Let's make this very clear. Haynes is still "very happy" with his commitment to Alabama. That was what he said before he attended the Georgia-Oregon game earlier this season. Those feelings remain constant.
It was his first Alabama game. Did that trip to Tuscaloosa reaffirm all those good summer vibes he felt with the program?
"Yes," Justice Haynes said. "Bama is great. I love "Bama. I love that place. Tuscaloosa is a great place."
Did you know the weekly DawgNation.com "Before the Hedges" program is available as an Apple podcast? Click to check it out and download it.
Justice Haynes: Dell McGee already pulled off one heck of a job this cycle
McGee pulled off a rare feat with his recruiting history in Athens earlier this cycle. When Georgia flipped Roderick Robinson II from UCLA, the 'Dawgs came back from third place for that one.
Texas A&M was the leader. UCLA was in second and that was the program he was still publicly committed to.
The 'Dawgs came back from the bronze medal spot over the course of Robinson's first visit to check out UGA. That was just over the span of 48 hours in Athens.
Robinson then promptly shut down his recruitment.
There was some considerable weight on the bar for that effort. Now add a couple of 45s to each side for trying the flip for Haynes.
That visual of Georgia's ace recruiter watching Haynes surge for most of his 214 yards against Mill Creek was fitting. McGee was there to see more of it than any other recruiter on hand last Friday, including the Alabama running backs coach.
Haynes is a special back. The comparisons to former Georgia great D'Andre Swift are valid. Especially with what Haynes can do catching the ball out of the backfield. Swift might still have the edge at the same stage of their careers catching the ball there, but what stands out for Haynes is his durability.
He's had numerous 30-carry games in high school. Haynes very well could wind up as the No. 2 all-time rusher in Georgia high school history. Buford, a consensus top 10 team nationally, would play up to eight more games if it goes on to win the Class 7A state title.
According to Georgia High School Football Daily, he's currently in 11th place all-time in Georgia rushing history with 6,850 yards.
Let's give Haynes a pedestrian (by his standard) 150-yards-per-game average for eight more games. That would give him 1,200 more yards this season and 8,050 for his career.
Commerce legend Monte Williams holds the state record for career rushing yards with 8,844 yards from 1997-2000 in Class A ball. Emmanuel County Institute great Washuan Ealey (who went on to play at UGA) sits second all-time in state history with his 8,108 yards from 2005-2008.
It looks like Haynes can catch Ealey.
That will be a tall order for him to hawk down Williams. He's part of a very deep and talented backfield at Buford. Haynes would need to average 250 yards per game through the playoffs.
That seems out of reach.
It remains to be seen if the odds to flip Haynes from 'Bama will be any better than that.
Have you subscribed to the DawgNation YouTube channel yet? If so, you will be able to see special 1-on-1 content with 2023 commits CJ Allen, AJ Harris and Jamaal Jarrett.
SENTELL'S INTEL
(check on the recent reads on DawgNation.com)
Next
Eddrick Houston: 5-star 'unblockable' junior is already a must-get …