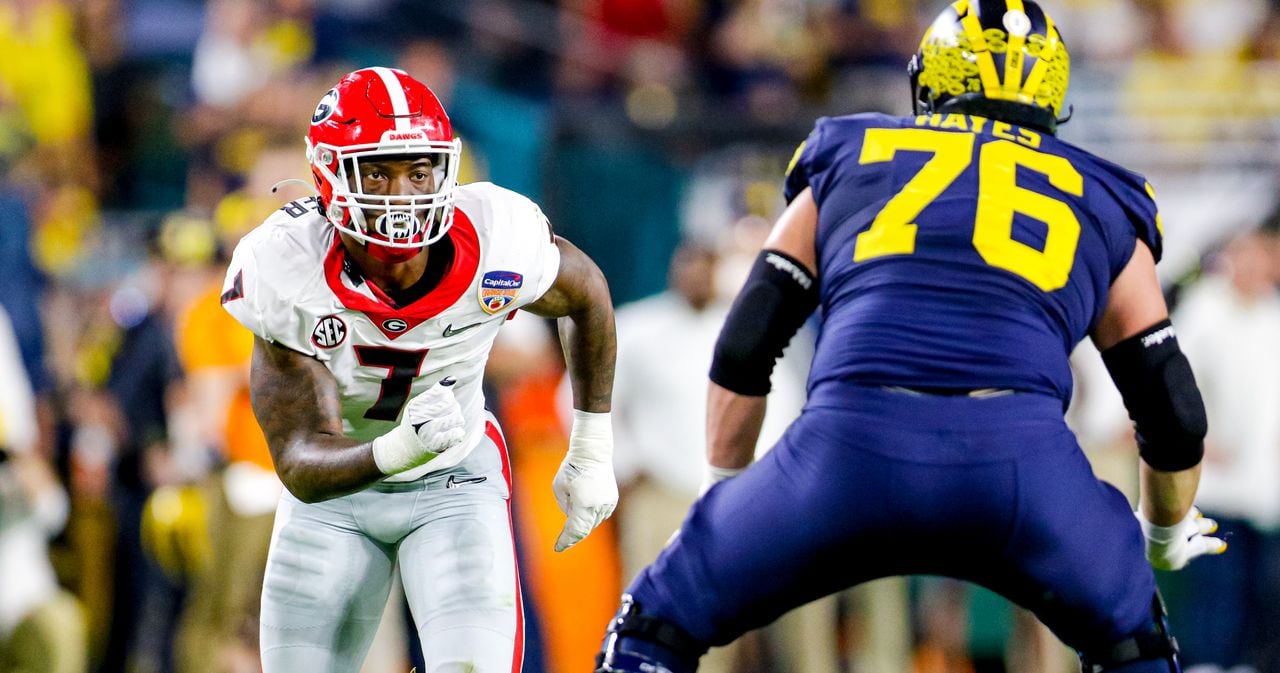 Quay Walker: The two stories to know about Georgia's fast-rising NFL draft prospect
Growing up in Cordele with Big Kat Bryant. The flip from Alabama. The hat toss away from Tennessee. He bided his time, kept getting better on the practice field and then became a dominating member of a generational defense which secured that long-sought national championship.
Walker ran a brilliant 4.52 laser time in the 40 at the NFL Scouting Combine. That was the fourth-fastest among the LBs at that showcase. Yet the other guys at his position that could roll like that were not also 6 feet, 4 inches and 241 pounds.
That was on the same field where his 'Dawgs beat Alabama for the national championship. Walker wound up third on the team with his 67 tackles in 2021. While he only had 1.5 sacks, he did have an impressive 25 quarterback pressures and was adept in pass coverage.
Shelton Felton: The man who got Quay Walker to play football
Shelton Felton played a key role in putting Walker on this path. Felton, now the head coach at Valdosta High School, shared that story with DawgNation.
He's happy to walk down memory lane when it comes to Quay.
"I can talk all day about him," Felton said.
Felton remembers the first time he saw Walker. It was not on a football field.
"We met when he was 15," Felton said. "I saw him in the gym. He picked up a basketball, went full court and dunked it and everyone went crazy. I went and ran on the court to him. I asked him his name. He told me he was a basketball player. I told him that day 'If you play football son you are going to be great' and he believed in what I told him. He believed it and worked with it."
He knows it will be emotional for him when he hears Walker's name called. Those two are still in constant daily contact.
"It will be tears of joy," Felton said.
The city of Cordele will be excited, he said.
"He is one of our own kids," Felton said. "Homegrown. He's done everything right. You haven't heard anything bad about him in the community. He's done everything the right way at Georgia. Worked his butt off. Didn't quit. He could have quit. This is a generation of kids that are transferring and going into the portal. I'm not questioning them because everybody has the right to leave."
"But he stayed at Georgia. Worked his butt off. Now he's showing the world just what a lot of hard work can do. That's going to be my feeling when he walks across that stage. Just a proud moment for him and his family."
When thinking back to those days, there is this one vision of Felton leading Bryant and Walker across the UGA practice field. This was when Georgia bused over to Lake Herrick every day while the entire Butts-Mehre football footprint was getting an overhaul.
That was in the summer of 2016. Walker was slight and skinny back then, but he was tall. He was already an emerging prospect coming out of Crisp County in Cordele.
The Bulldogs held a prospect camp out at the intramural fields back then. Jacob Eason was preparing for his first college season. He had put on a lot of muscle tone and weight since arriving at UGA in January.
That was Smart's first summer leading the Bulldogs. Things have certainly changed around Athens since then.
Have you subscribed to the DawgNation YouTube channel yet? If so, you will be able to see special 1-on-1 content with UGA names like Jake Fromm, Gunner Stockon and Brock Vandagriff here.
The other great story to know about Quay Walker
This story is not that well-known but if Walker had his way, he'd be running it back for Georgia in 2022. He led UGA in tackles in the national championship game against Alabama but wanted more.
Walker wanted to return for his super senior season. He loved being a Bulldog and playing in Sanford Stadium.
When faced with that reality, the Georgia staff shared what they were hearing about his draft stock from their NFL contacts. He was expected to be among the first 50 picks taken, if not a lot higher than that.
"That is true," Felton said. "He felt great about it and what he had done. Won a national championship. Played great. But he wanted to put his name among the Georgia greats and come back for his senior year. But when it came out there was the possibility he was highly-ranked and could go in the first round or second round it was an opportunity he couldn't pass up."
The former Crisp County High star stands out because of his athleticism, aggressiveness, length and versatility. He could be an inside or an outside linebacker on Sundays.
"You're talking a six-foot-four-and-a-half, 245 pounds, chiseled up and can run a legit 4.5 or a 4.49," Felton said. "Shoot. Those freaks are hard to come by."
What is his most impressive trait?
"That's his athleticism," Felton said. "He's very very athletic and he is physical. He's physical at the point of attack. If you watched him in The Orange Bowl against Michigan, when he read something, he dropped and then he was triggered. When he's triggered, he has bad intentions. That's the Quay Walker I know."
"That's the same mentality he had on the basketball court and he finally took all of that to the football field."
Felton would like to see Cordele honor Walker after his draft day. When he goes high in the draft, it will be a first for Crisp County and that community.
"My family is there and I believe in that school and that community," Felton said. "I know the athletic director well. Once it happens, they need to retire his jersey and make it Quay Walker Street by the school. I will be right there supporting him and supporting it."
SENTELL'S INTEL
(check on the recent reads on DawgNation.com)
Next
Christopher Vizzina: Elite 2023 QB prospect details his 'super …