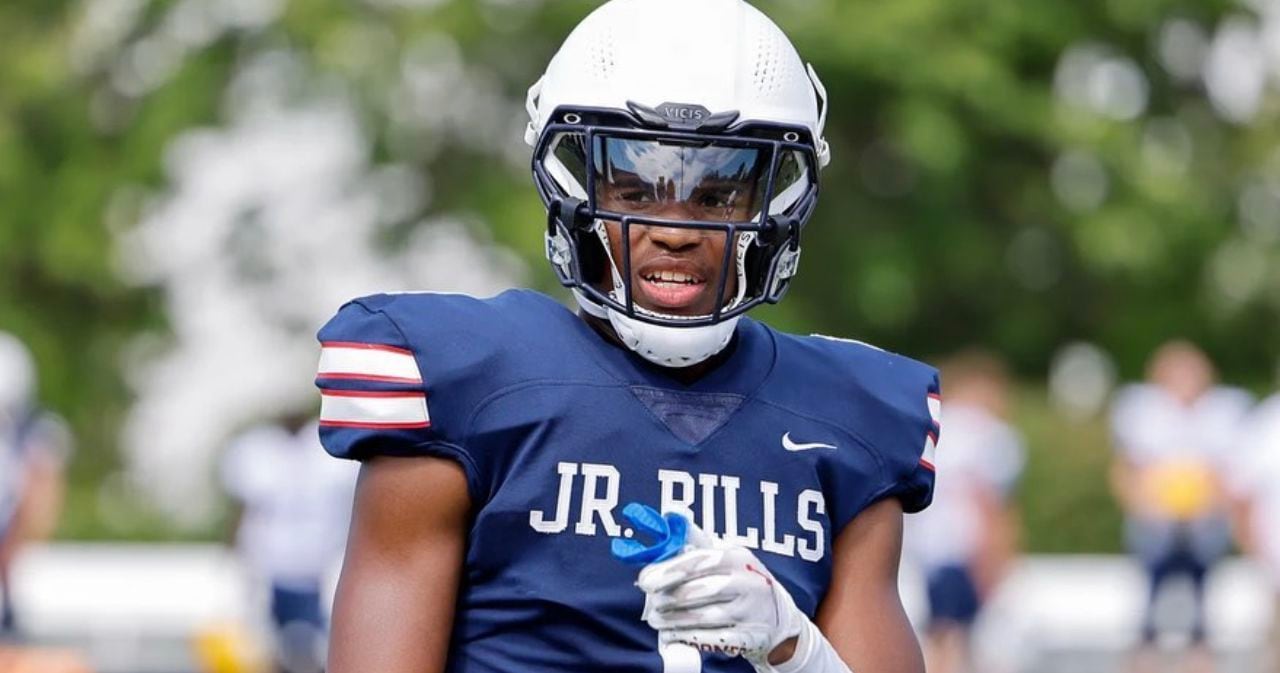 Ryan Wingo: Nation's No. 3 WR recaps weekend Georgia football visit, hints at return for an official
Want to attack every day with the latest Georgia football recruiting info? That's the Intel. This rep has the latest with 5-star WR Ryan Wingo. He ranks as the nation's No. 3 WR and the No. 23 overall prospect for 2024 on the 247Sports Composite ratings.
==========================================
Ryan Wingo has put up some numbers. He's been clocking sub-11.0 times in the 100 meters since his sophomore year, including a blazing 10.55 in the spring prior to his junior year.
The 6-foot-2, 210-pound rising senior also takes that speed to the field. He turned 12 of his 41 catches last fall into touchdowns. He averaged 19.1 yards per catch while also going both ways on defense.
Wingo added 44 tackles, two sacks and two picks to the stat sheet on that side of the ball for St. Louis University High School in Missouri.
He also took two of his six punt returns back for scores last fall. That's not bad for a young man that comes from a family of running backs. His older brother, Ronnie, played that position in the SEC at Arkansas and ran for 1,089 yards and eight scores in college.
The nation's No. 3 WR (247Sports Composite) was in Athens this weekend for a big early unofficial visit. He had planned to be there with 5-star QB target Dylan Raiola. Those two were able to link up and spend some time together in the Classic City.
"That's my guy," Wingo said.
Raiola is the nation's No. 1 prospect for a reason. What would it be like to play with Raiola at the next level?
"That's my guy," Wingo said. "And it'll be cool."
The visit was substantial for Wingo. So much he's now strongly considering an official visit. If he does, look for him to also possibly take that official with Raiola. There are a lot of hints around now that Georgia would love to host Raiola among a star-studded visit list on the first weekend in June.
"I liked it a lot," Wingo said of the visit. "I was able to get up there and see it for the first time and I think I'm coming back for an OV."
He got to see how the back-to-back national champions get after it on the first day of pads. That was the real "wow" moment for him on Saturday.
"Their practice," he said. "It was crazy. They were flying around and making plays. It was intense."
It was the first visit, but he already has an idea of what meant the most about the chance to play in Athens.
"The ability to be able to compete for a national title," he said.
Georgia didn't really break out a lot of its plans to use him as a receiver on the visit.
It was a fun visit just getting to see the culture and feel the vibes at UGA. The next visit should carry a lot more depth.
Did you know the weekly DawgNation.com "Before the Hedges" program is available as an Apple podcast? Click to check it out and download it.
What motivates Ryan Wingo?
Wingo describes himself as the "recruiting coordinator" for the Junior Bills at St. Louis University High School in St. Louis.
"He is a great young man," SLUH head coach Adam Cruz said.
He's always trying to help the lesser-known players on his team get their own share of recruiting attention. When a player is a 5-star recruit, he can bring that sort of shine to his teammates.
When he goes on visits, he tries to bring along other guys. That is why he was voted a unanimous team captain for the second year in a row. He was one of the first juniors to be named captain in his team's history in 2022.
"Ryan can fit in anywhere," Cruz said. "It is cool seeing him around the school. He can fit into any scenario. Any classroom. I actually taught Ryan during literature. He's a first-row (of class) type of kid. He is obviously very talented, but you would never know his profile by seeing him around the hallways just because of how he fits in with everybody. He's really accessible. Really ingrains himself into the school."
That links up with why he plays the game. Wingo said he plays for his family.
"My why is having the opportunity to make sure my family never has to work again," Wingo said. "That's been my biggest goal since I was younger."
It matters to him to be a person everyone can relate to.
"I'm a cool guy and you can come up to me and I won't try to Hollywood you and I'll talk to you," Wingo said.
That approach might make one think he's never had a bad day. The 5-star winning at life.
But he has. Wingo has posted a "LLJAZ" message on his social media. It is a tribute to family friend Jaz Granderson.
He wasn't his real brother. Except in the ways that really matter.
"He was my brother's best friend, but basically my big brother in a sense," Wingo said.
Jaz Granderson was fatally shot in a violent 2017 carjacking. He was a local high school coach at the time that had played in the area and went on to play college ball for Northern Iowa. At the time of the tragedy, the Northern Iowa team wore a special helmet decal to honor his memory.
Wingo started writing "LLJAZ" on his gameday gear to honor him.
"I did it in seventh grade," Wingo said. "I'll start doing it more this year since it's my last year of high school."
What is the main thing his high school coach tells college recruiters? Why should they sign him?
"It would be the best thing you could ever do," Cruz said. "Not only between the lines but in the locker room with the work ethic. We got a 'JUGS' machine last year and he's on it any time he can get on it. For a short amount of time even. Just to work on his game. He's going to work as hard as anybody. He's a junkie for the game and he's a great teammate and a great leader as well."
Have you subscribed to the DawgNation YouTube channel yet? If so, you will be able to see special 1-on-1 content with key 2024 prospects like Daniel Calhoun, Dwight Phillips Jr., Dylan Raiola and Sacovie White.
Ryan Wingo: The unique skill set to pay attention to here
There is quite a collection of football skills to pay attention to here. He can play the X, the slot or the Z spot in the receiver room. With his height and speed, he can line up in a bunch of ways and do a lot of things.
The fact that he has served as the SLU punter for the past two seasons stands out.
He had 17 punts for 701 yards as a junior. That's an average of 41.2 yards per boot. He was third in their area in punting average last year. He was among his area's top five in punting average as a sophomore.
There was a sequence from his sophomore year that stands out.
"On three consecutive punts, he threw a 75-yard touchdown pass," Cruz said. "Then pinned them on the 1-yard and then ran 21 yards for a first down."
The backstory here: Wingo, the 5-star receiver, was punting. That was the coveted college prospect with SEC football in his blood, a 10.55 time in the 100 and a 21.31 in the 200.
Those were all punts. Or fake punt plays. It makes one wonder if their opponent started to hate to see him come out for fourth downs. That's normally a sigh of relief for defensive coordinators.
"I don't know how you defend that," Cruz said. "Right? Because if you can do all of those things on a football field, then you are a weapon. None of those things are really with his receiver skills. Which is where he makes his bread and butter."
With all of that, the burst here is what really jumps out when you see Wingo on grass for the first time.
"We get so executed on the headsets when he is back there in punt formation and he is back there on kickoff and they actually kick him the ball," Cruz said. "Because we know that one blink and he is gone. Just got a great burst. Great speed and great top-end gear and all of that stuff."
Wingo can really do anything he wants on a football field. Verify that for yourself below.
SENTELL'S INTEL
(check on the recent reads on DawgNation.com)
Next
BREAKING: Elite in-state ATH Demello Jones commits to Georgia …