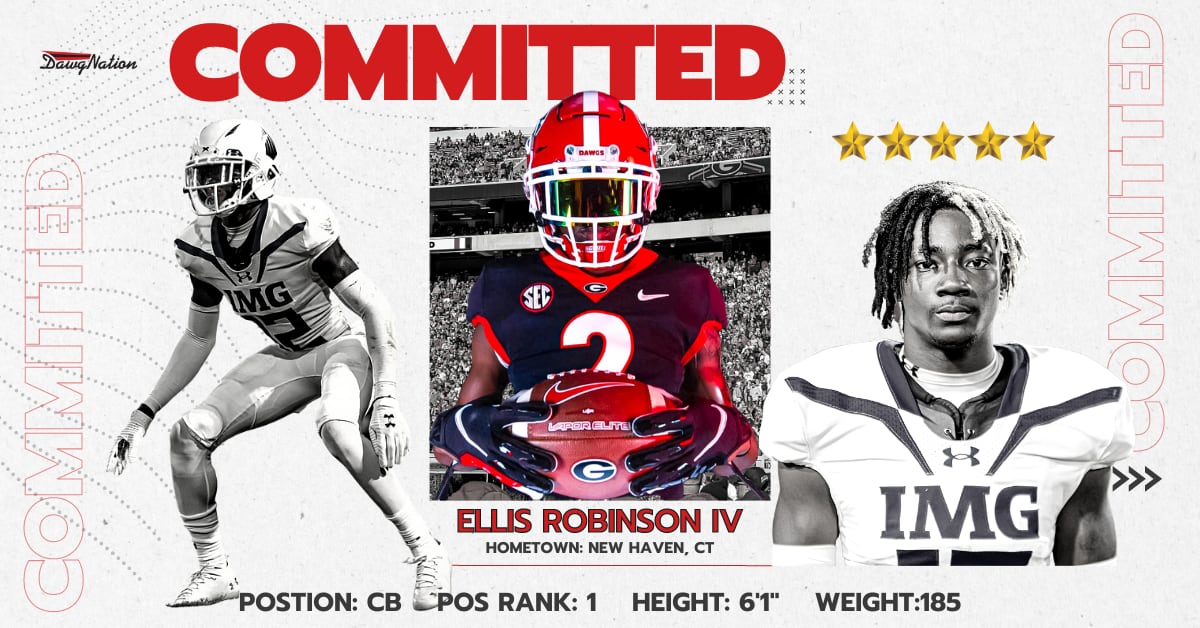 BREAKING: Nation's No. 1 junior CB Ellis Robinson IV is a 'Dawg
Want to attack every day with the latest Georgia football recruiting info? That's the Intel. This rep has the latest with 5-star junior CB Ellis Robinson IV. He ranks as the nation's No. 1 CB and the No. 13 overall prospect for 2024 on the 247Sports Composite ratings. On3.com ranks Robinson as the No. 1 CB and the No. 7 overall player for the 2024 cycle.
==========================================
When Ellis Robinson IV set out on his recruiting journey back when he was a promising young high school player at Iona Prep in New York, he had the following ideals in mind.
Strong academic program ✅
Visually-appealing campus ✅
Playoff/championship-level team ✅
Great relationships with both his position coach and his head coach ✅
A system that plays a lot of man coverage ✅
He made his college commitment today and there's this school up in Athens that checks all those boxes.
The scope of what he was looking for all funnels to the present day. Robinson, the top junior cornerback in the country, chose to commit to Georgia via a live-streaming announcement on ESPN2 today.
The 5-star cornerback had a good relationship with Georgia assistant coach Fran Brown since he was a freshman coming up in New York. But that was when Brown was at Rutgers. He wasn't going to get a 5-star like Robinson with the Scarlet Knights.
When Brown made the move to Georgia, that was a whole new ballgame. He began prioritizing Robinson as "his guy" early on when coaches were able to reach out to recruits.
When he started talking to Georgia, he also started to build a strong bond with both co-defensive coordinator Will Muschamp and head coach Kirby Smart.
That was why he said that Georgia was his new home live on ESPN2 today.
"Georgia just felt like home," Robinson IV told DawgNation. "It provided me with the best opportunity academically and athletically. The relationships with coach Kirby [Smart], coach Fran [Brown] and coach [Will] Muschamp just put UGA over the top for me."
If we're being honest, the Connecticut native knew that Athens was a strong potential home right from his very first visit. He saw the 'Dawgs practice. Robinson said he'd never seen anything like it.
He went on a three-day visit to UGA early in his process which was very impactful.
His grandparents, the late Ellis Robinson Jr. and Sharlenia Robinson, would certainly be proud of him today.
The 'Dawgs took the win here over strong interest in Alabama, Colorado, LSU and Miami. The 5-star with the unique two-tone hair look is now a 'Dawg. He made a silent commitment to UGA last month when he came up for the national championship parade and stadium celebration.
"I feel UGA will develop me on and off the field to be ready for the next level," Robinson IV said.
There were many seismic moments in his recruiting process. There was that three-day visit. His first game-day visit was for the Tennessee game back in November. Boy, was that ever a time for a coveted 5-star recruit to check out Sanford Stadium on gameday for the first time.
"My skill set fits perfectly," Robinson IV said back then. "I could really see myself flying around making plays in a UGA uniform."
He was that game confirmed in his mind who the best team and coaching staff was in college football. After that visit, he conferred with his parents. Georgia was the team to beat from that point on.
Nobody did. That kind of lined up with the balance of the 2022 season.
There was the way he always felt in Athens. During the process, there was a time when he told DawgNation that he didn't know if his feelings could get any stronger about UGA.
RELATED: The heart-tugging reason why Ellis Robinson IV wanted to make his college commitment today
Ellis Robinson IV: What Georgia is getting in the nation's top cornerback.
There are a few items of history to make note of here. Robinson IV becomes the 10th commitment in a Georgia class that was already ranked No. 1 nationally by the 247Sports Composite Team Rankings.
He becomes the fourth defensive pledge in the young 2024 class to be ranked among the nation's top 40 overall prospects, including a star-studded trio in the secondary.
Robinson also becomes the highest-rated recruit of the 2024 class. He joins 5-star Landen Thoams as the two Bulldogs so far to commit to the G with that elite ranking.
There's some unique symmetry here with Bear Alexander in the 2022 class. Alexander chose to commit to UGA on National Signing Day one year early when it came to his recruiting class.
Alexander, also a former 5-star for at least one national service, also would transfer to IMG Academy to play for his senior season. Barring some news today from 5-star 2023 prospect Duce Robinson, this will mark another National Signing Day where the 'Dawgs locked up so much talent during the Early Signing Period, that the big story for the program on National Signing Day in February comes from a recruit in the next class up.
There is also a strong historical track record here with 5-star cornerbacks to choose to play for Kirby Smart's program at Georgia. Robinson is now the sixth cornerback commit to the G during Smart's nine recruiting cycles in Athens. (That cycle counts this 2024 class with Robinson's news today and that number will also include 5-star AJ Harris in the 2023 cycle. Harris did not finish the 2023 cycle with a 5-star ranking.)
The Smart era in Athens has produced the following signees that finished with a 5-star ranking:
2018: 5-star Tyson Campbell/Fort Lauderdale, Fla. -- No. 2 CB and No. 12 overall
2020: 5-star Kelee Ringo/Scottsdale, Ariz. -- No. 1 CB and No. 4 overall
2022: 5-star Jaheim Singletary/Jacksonville, Fla. -- No. 5 CB and No. 27 overall
2022: 5-star Daylen Everette/Bradenton, Fla./Norfolk, Va. -- No. 6 CB and No. 28 overall
2024 COMMIT: 5-star Ellis Robinson IV/Bradenton, Fla./New Haven, Conn. - No. 1 CB and No. 13 overall
Robinson can play man or zone. He can play inside or outside and could even play safety if needed. The 5-star commitment has been tracked on game film at over 22 miles per hour during game action.
He has worked and used those very very long arms to make himself into a complete player. Robinson also hoped to make his college decision before his senior season.
This highly-motivated and mature young man has now also checked that box, too.
Have you subscribed to the DawgNation YouTube channel yet? If so, you will see special 1-on-1 content with 2023 signees CJ Allen, AJ Harris and Jamaal Jarrett.
SENTELL'S INTEL
(check on the recent reads on DawgNation.com)
Next
Duce Robinson explains why he won't sign on Wednesday, how much MLB …