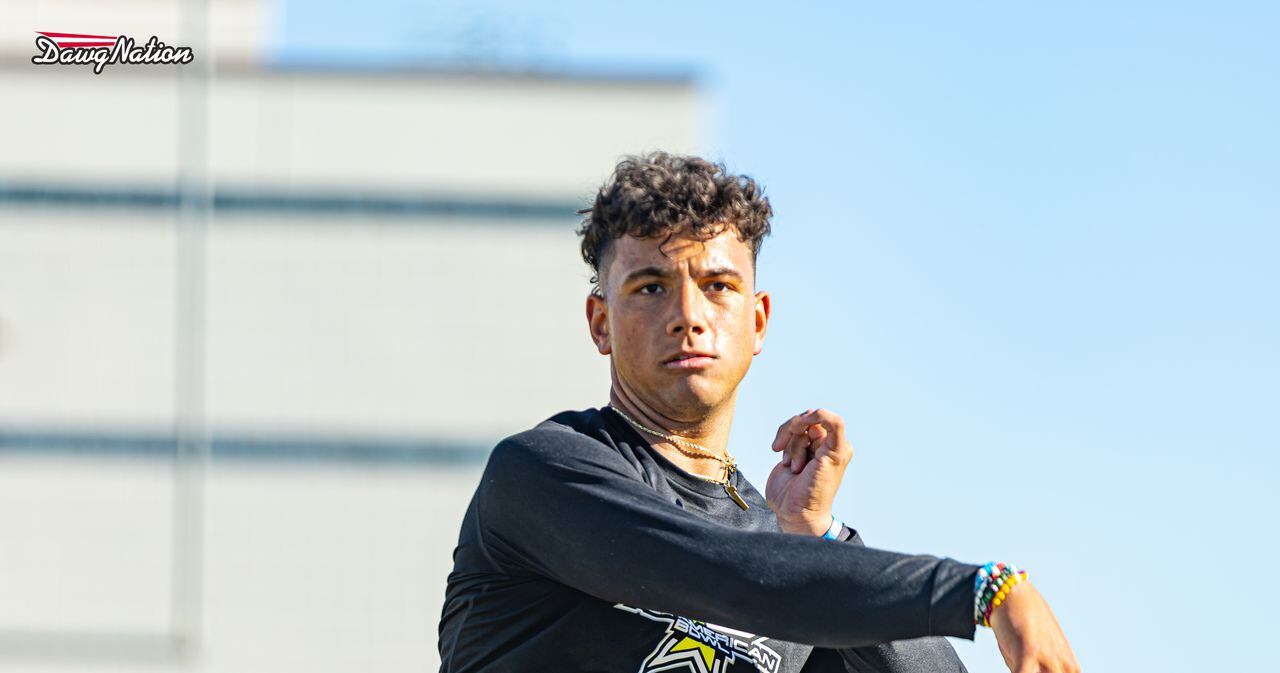 5-star QB Dylan Raiola on Georgia: 'They play a different breed of football'
Want to attack every day with the latest Georgia football recruiting info? That's the Intel. This rep has the latest with 5-star QB prospect Dylan Raiola. He ranks as the nation's No. 1 and the No. 1 overall prospect for 2024 on both the 247Sports Composite ratings and the On3 Consensus. He's also the No. 1 overall prospect for both the ESPN and the Rivals rankings.
==========================================
PHOENIX, Ariz. -- Dylan Raiola will be coming back to Georgia. He's set a trip for a Georgia visit for March 18.
A lot will have changed since his last visit to check out Athens. Let's see if we can tally up the significant time stamps for both the 'Dawgs and Raiola since his last visit for the Kentucky game during the 2021 season.
Georgia won the national title in 2021. That was the program's first in 41 years.
Former Georgia QB Matthew Stafford, a close Raiola family friend and mentor to Dylan, led the Los Angeles Rams to a Super Bowl victory.
Raiola was named the nation's No. 1 overall prospect by every service for the 2024 cycle
The now 6-foot-3, 220-pounder Raiola committed and then decommitted from Ohio State
Georgia won the national title in 2022. That was the program's second in two years. Raiola and his family were in attendance at that game with Stafford at SoFi Stadium in Los Angeles. Dylan's sister, Taylor, is a volleyball player at TCU. His father, Dominic, played alongside Stafford in the NFL for six years before retiring after the 2014 season. He had 14 total years in the NFL.
His younger brother Dayton Raiola, a 2026 QB prospect, has grown about five or six inches since that visit for the Raiola family in October of 2021.
Dylan Raiola also recently transferred from Chandler High School to Pinnacle High School. That now makes his third high school since his sophomore season. The moves have been based on benefitting his career, including moving to be able to play for a former NFL QB in Jon Kitna in Texas. Kitna was a former teammate of his father in the NFL. Then back to Arizona to be closer to home and family for his junior season.
That's a lot of transition, but the thing to always keep in mind with Raiola is that faith is at the center of every decision. That goes for commitments, decommitments and high-profile transfers for the nation's No. 1 overall prospect in his class.
Raiola told DawgNation once that he puts Jesus Christ on his goalpost and lets his Christian faith lead his life.
"There's a lot of distractions around," Dylan Raiola told DawgNation. "A lot of negative but I put everything and my trust in God and that takes a lot of the pressure and the negative away. I just really feel free that I can train, be a kid, play football and be around my peers at school."
Raiola plays the game with a warrior's spirit. That comes from being the son of a former All-American and Dave Rimington Award winner at Nebraska. Dominic Raiola started every game he played for the Lions after his rookie season in the NFL.
Dominic Raiola also started all 16 games of an NFL season a total of 11 times in his career. That standout level of toughness carries over from father to son. That's evident by taking a look at Dylan's junior season. While his numbers across the board dipped from his sophomore year in Texas (32 TDs and 5 INTs) to last season in Arizona, he never made mention of why.
"I feel about 95 percent or close to 100," he said. "Last year I went through some injuries. Just kept them disclosed. I wanted to be out there for my team. I knew that in order for our team to win that I had to give it my best shot. I knew that I would do that for them."
It is not wise to deal with absolutes on the recruiting trail, but Raiola hopes to make his commitment by the time he starts playing real games for Pinnacle in August.
"I do hope that I can come to a decision before games start in the fall but if it is meant to be it will be," Raiola said. "Just kind of being patient here and letting this whole thing unfold."
He does have at least a couple of other visits in mind.
"I'm planning a trip to Nebraska," he said. "Possibly looking at going to Oregon. But you know everything is open. I feel like if I need to go visit any place, then I can go see it. But I'm just taking it day by day and just building relationships with the coaches that I feel are genuine."
Have you subscribed to the DawgNation YouTube channel yet? If so, you will be able to see special 1-on-1 content with 2023 commits CJ Allen, AJ Harris and Jamaal Jarrett.
Dylan Raiola breaks down his recent visit to USC
He called the move to Pinnacle a "smooth transition" with a lot of moving parts. The eligibility laws in Arizona are different than the Georgia High School Association. Open enrollment is in play. Players can transfer freely from one school to another regardless of distance or where they reside. The only stipulation is that the school cannot be filled to capacity and there is room for the transfer student to enroll.
Raiola took an impactful visit late last month to check out USC prior to the dead period for visits in February.
"I learned a lot," Raiola said. "Coach Riley he is the head man of everything. All the big decisions. He really just runs the whole offense. I knew that going there but we got to sit down and watch film. I got to listen to how he taught [2022 Heisman Trophy winner] Caleb [Williams] and how he teaches things and his scheme. It is a perfect fit for me I think. I definitely can see myself playing there."
How will his first commitment and recruiting experience with Ohio State help shape the next commitment he makes?
The keyword is "patient" for his second trip around the commitment process. He intends for that to be final.
"I'm very fortunate and blessed to have time," Dylan Raiola said. "I can be patient through it. Really lay everything out. Write things down. Pros and cons. Do the whole nine yards of all that. I have great parents. They have seen a lot. They have pretty much-seen everything that can come through this way. So I'm just really listening to them and then [it goes] back to my faith. I have all my trust in God that he is going to lead me to the right place."
He said he will really on "self-control" and "discipline" to balance out feelings like where a USC or a Georgia or even his father's Nebraska might feel like a perfect place. Raiola wants to weigh all things and not make a quick-trigger decision with his next commitment.
"Writing things down and journaling is going to be big for me," he said. "Then just relationships. See how the relationships are where at that place to where I felt that certain type of way to maybe a month or two down the road. Are things going to feel the same? If it feels the same and it is meant to be then it will still be there. I'm a big believer in that and I just trust my parents and trust God and that will lead to the best decision."
Did you know the weekly DawgNation.com "Before the Hedges" program is available as an Apple podcast? Click to check it out and download it.
A few foundational things about Dylan Raiola and Georgia
Dominic Raiola recently told DawgNation that the fact the Bulldogs are a "gold standard" program will always keep them in the picture with the Raiola family. The all-time Detroit Lion has long been impressed with the way Kirby Smart runs his program.
When Georgia recruiting staffer Chandler LeCroy passed away last month, the 5-star QB put tributes to her up on his social media.
He put up a picture of the two of them together on a UGA visit up as his avatar on his Twitter profile for a time. The hashtag #Chandlerlecroy🕊️❤️ is still atop his Twitter bio.
"I was really close to her outside of recruiting," Raiola said. "She really took care of me on my visits."
When schools were first allowed to reach out to the 2024 class back on September 1, she made a point to contact him.
"Even though I was committed to Ohio State, she was just really genuine," Raiola said. "I just felt the love from her and it was very impactful on my life. Now I have something bigger to play for. I know she's up top watching me from above. I just felt that I owed her and I will honor her in everything that I do."
What will be the core criteria behind his next commitment?
"I think just the relationships and really seeing every school and what they have to offer," Raiola said. "For me, it will really come down to relationships. You can show winning. You can show scheme but you can't fake being who you are and who you are all the time. Just really getting to know the coaches at each school that I am looking at and really just trusting my family."
The Bulldogs were his first offer. They were one of his top options last year along with Ohio State and USC. Why are they still in the thick of it this time around?
"I think you have to start with the leader," Dylan Raiola said. "Coach Smart. What he does for his program and his players. The development he has. You can't beat what he does. They are obviously back-to-back champions but I try to keep that out of the equation. I don't want to make a decision based off of winning and losing, you know? Don't get me wrong. It is great to win and not lose but [it is] just the relationships I have with Coach Smart, coach [Mike] Bobo, coach [Todd] Monken, coach Gummy [Montgomery Van Gorder] and really the whole staff there at Georgia."
The rumors are there about Todd Monken being courted by the NFL. How much would Monken leaving for the NFL affect his perception of Georgia?
"I think that's really important," Dylan Raiola said. "Obviously Coach Smart probably has the next guy ready if coach Monken decides to leave but if he leaves that's definitely something I have got to look into a little deeper. But I'm definitely staying in touch and seeing what is going to happen next with him."
What's the strongest potential pull for him to be a "Dawg?
"I think you look at the college town Athens and really everything it has to offer," Raiola said. "It is a small college town. You get that college feel and college atmosphere on game day. You throw football into there. It is a great campus. Great people around the campus. There's just a lot they have to offer other than football. You know you are going to get developed. You are going to develop as a person. As a player. Really just the people they have around there. The right people that [you[ need to help you be successful."
What will that next trip to UGA be about?
"I think it is just really going to be sitting down with the coaches," Dylan Raiola said. "Seeing what they have to say. Obviously, there are questions that needed to be asked. That [also] needs to be answered to as well. I just want to go in there with an open mind. Knowing that it's one of the best programs in the country. So obviously just being open-minded and really just listening to all the information they have to say."
Raiola said he's already hearing it from the current 2024 commitments for the 'Dawgs. Georgia does have a commanding lead already for the nation's No. 1 recruiting class in the country on the 247Sports Team Composite ratings.
4-star California safety commitment Peyton Woodyard has a long-established relationship with the Raiola family.
"Obviously with Peyton Woodyard, I knew him before he committed," Raiola said. "That's really just a great friend to me. He's been cranking the heat up a little bit recruiting me."
Georgia got the commitment from 5-star CB Ellis Robinson IV last Wednesday. It was his big day, but he made sure to reach out to Raiola shortly thereafter.
Robinson told him "Go Dawgs!" and "You're next" with that text.
"I got a text from him about two hours after he committed," Raiola said. "I'm hearing it from the commits. It means a lot to me, but I'm just going to make sure I get all the questions answered and see where this thing plays out."
Woodyard talks to him often. The usual pitch is for Raiola to come to be a 'Dawg.
"He wants to be roommates with me," Raiola said. "So he's like 'I need my roommate' and just very genuine. Great person and a great family."
The last time the 'Dawgs played left a strong impression on Raiola. He saw the 'Dawgs on the mountaintop of the sport. Leaving no doubt.
"You saw dominance," Raiola said. "You can tell it is different. They play a different breed of football. You know TCU had a great season. They just caught Georgia on the wrong day. I saw dominance. I saw dudes wanting to win and play for each other. Obviously, the outcome is well-deserved. They put it all out there on the line."
"Putting up 65 [points] in a 'natty' man. That's really rare. Props to Coach Smart. Props to Coach Monken and Coach [Will] Muschamp. Their whole staff put a great plan together."
Raiola said there are about six to eight members of the Georgia staff that reach out to him about his opportunity to play in Athens.
"It means a lot having all of them reach out and view me that way," Raiola said.
SENTELL'S INTEL
(check on the recent reads on DawgNation.com)
Next
Duce Robinson: The 'very underrated' family connection to the Georgia …